What Manufacturers Can Expect in 2023
01.23.23
The advantages of shelter manufacturing in Mexico have recently gained increased attention due to the 10th North American Leaders' Summit held in early January. U.S. President Biden, Canada Prime Minister Trudeau, and Mexico President Lopez Obrador have solidified Mexico's manufacturing as a go-to plan for economic growth for the future.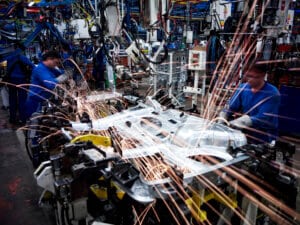 Though it's been a longstanding industrial strategy, it is becoming increasingly important in 2023 for these North American countries to bring back sectors and products from Asia closer to home.
The joint goal of North America's government leaders is to strengthen their economic partnership and build on the "continual consultation and cooperation" to strengthen supply chains and deepen dependence on their allies rather than being solely dependent on China. Thus, the three countries are creating a joint committee designed to increase self-sufficiency and promote nearshore manufacturing.
For many manufacturers, this type of decision is unsurprising as relations between the U.S. and China have been strained for years. The 2018 war on tariffs only became exacerbated in 2020 when supply chains in China were crippled by the global pandemic. Consequently, there's been a loss of confidence in the U.S./China trade relationship following a period when U.S. manufacturers were heavily dependent on the low cost of labor and production China provided.
Supply and demand have shifted and nearshore manufacturing has become the long-term solution of the future. Not only does it make sense with regard to proximity and cost savings, but there are also more opportunities when manufacturing in Mexico in relation to high-tech production, renewable energy resources, and the incentives set forth by the USMCA.
FAQ on moving manufacturing from China to Mexico >>
High-Tech Production
With automotive, aerospace, electronics, and medical device manufacturing as leading sectors, it requires a certain level of skills and expertise to deliver quality products. Mexico's infrastructure and industrial workforce are equipped to handle high-tech production. Plus, there is far greater labor availability at a lower cost than compared to the U.S. or China.
Renewable Energy Resources
Mexico also has the potential to develop renewable energy sources through solar, wind, and geothermal capabilities. By pursuing these avenues to diversify the energy supply, the result would be lower electric costs and more sustainable solutions for production in the future.
USMCA Trade Agreement
Furthermore, one of the main provisions of the USMCA is the increased regional value content rule. It requires 75% of original automotive content to be produced in North America. This incentivizes companies to explore nearshore manufacturing for vehicle parts and production previously outsourced to China and other regions.
The benefits of nearshore manufacturing have grown and strengthened over time. Companies considering making the move to Mexico for the first time can rely on the history of success as they expand their operations. Additionally, foreign manufacturers have the unique advantage of partnering with a shelter program.
A shelter services company takes care of all administrative responsibilities such as HR, accounting, trade, and legal services, allowing manufacturers to focus solely on the operational day-to-day. Additionally, partnering with a shelter reduces the start-up timeline by nearly half. It typically takes three to four months to launch production with a shelter compared to the six to seven months necessary as a standalone entity.
As North American leaders continue to invest in their common values, the push toward nearshore manufacturing will become more prevalent. Learn how IVEMSA's shelter services can make expansion into Mexico a seamless transition. Contact us today.
Sources:
https://www.whitehouse.gov/briefing-room/speeches-remarks/2023/01/10/remarks-by-president-biden-prime-minister-trudeau-and-president-lopez-obrador-in-joint-press-conference/
https://www.trade.gov/country-commercial-guides/mexico-renewable-energy