Why Manufacturers Consider Nearshoring to Mexico a Competitive Advantage
09.29.22
Moving production to a new location and changing setup models is a complex undertaking that takes significant effort. However, due to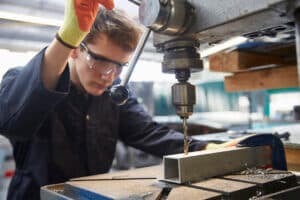 ongoing trade restrictions between the U.S. and China, as well as complications resulting from COVID-19 shutdowns and slowdowns, many U.S. manufacturers are considering nearshoring to Mexico as a competitive advantage that's worth the commitment.
Nearshoring manufacturing rose to popularity in the 1980s as U.S. and other foreign companies began to seek ways to reduce costs while keeping up with market demand. During this time, offshoring to China also became popular due to the availability of low-cost labor. Although, once the North American Free Trade Agreement (NAFTA) was introduced in the 1990s, it became more favorable for U.S. manufacturers to reshore to North American markets, thereby making Mexico the optimal choice over China.
The Shift from China to Mexico
Now in 2022, shifts in the manufacturing industry no longer make China as lucrative as it once was. The industrial labor force is retiring, and fewer employees are taking on vacant manufacturing roles. Additionally, labor and transportation costs have spiked, delayed timelines have deterred production, and ongoing trade conflicts between the U.S. and China have created room for opportunity for nearshoring instead.
Mexico maintains a well-established infrastructure and steady transportation pathways. Plus, the close proximity between Mexico and the U.S. results in speedier shipment times compared to overseas. A shipping container from China can take several weeks to arrive at a U.S. port. Whereas, shipments from Mexico to the U.S. can often be transported same-day. The geographical location is unmatched, making it easier for advisors to conduct site visits and work in the same or similar business hour time zones.
Furthermore, production security and intellectual property (IP) protection has always been a concern for manufacturers, an area which has been strengthened between North American countries through the USMCA. Conversely, IP protection has been a common problem when outsourcing to China due to counterfeits and unenforced IP rules. As digitization and new technologies continue to emerge, ensuring regulations are observed is essential.
In addition to the proximity advantage and protections under the USMCA, an operational move to Mexico also comes with the unique advantage of partnering with a shelter provider. A shelter has the experience and expertise to launch production for a new foreign company within three to four months compared to the six to seven months it takes as a standalone entity.
Under the shelter, all administrative responsibilities are taken care of, including site selection, recruiting employees, permitting and licensing, and customs compliance and accounting. It saves time and costs and allows manufacturers to focus on day-to-day production, making the transition seamless and hassle-free.
Diversifying Your Manufacturing Portfolio
The pandemic revealed maintaining supply chain diversity is important so as to not become reliant on Asia as the only option. However, when planning long-term, the advantages of nearshoring to Mexico for U.S. manufacturers remain unmatched and will continue to be a core strategy.
Considering setting up operations in Mexico? IVEMSA can customize shelter services to help you with your production goals. Contact us for a consultation today.