3 Advantages of Nearshoring: Talent, Pricing, Proximity
04.20.22
The infrastructure of manufacturing in Mexico is one that's allowed global manufacturers to flourish for years. Nearly all industries have established a growing presence throughout the country and have committed to long-term investments as their companies have expanded.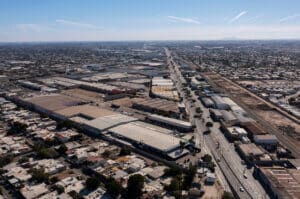 As manufacturing leaders plan for the future, a popular strategy is to reshore operations from China or at least diversify opportunities, while still benefiting from less expensive labor and logistics that come with manufacturing in Mexico. Though there are several nearshoring advantages, there are three key areas that contribute to its success: talent, pricing, and proximity. Each of these factors helps manufacturing companies mirror their operations in the U.S., continually providing high-quality production but at a lower cost.
Talent
Mexico boasts a highly talented pool of industrial workers, ranging in level of experience and expertise, and ready to fulfill any production job necessary. The cost of labor is also much lower and the workweek extends longer than what is available in the U.S. All together it creates a competitive workforce conveniently situated along the U.S./Mexico border and stretching throughout the rest of the country. Furthermore, foreign companies that offer competitive compensation, amenities, and respectful working environments benefit from workers who will remain loyal for years.
Pricing
Being closer to the U.S. market is an automatic advantage when it comes to pricing. Transportation costs are lower between the U.S. and Mexico versus the U.S. and China, and the close proximity makes the time-to-market much quicker. Also, Mexico's IMMEX maquiladora program offers a significant tax advantage for foreign companies by offering a 16% VAT exemption on temporarily imported goods, materials, and equipment. Plus, there's the advantage of working with a shelter service company, which can save manufacturers thousands of dollars a month in administrative costs, software fees, and certifications when compared to setting up a standalone entity.
Proximity
Foreign manufacturers with the mindset of running their facilities in Mexico the same as the U.S. often achieve greater success. The reality is throughout the border, there's a huge advantage for U.S. manufacturers being close to home. The proximity translates to easier, convenient travel, greater in-person interactions between teams, and an ability to recruit and hire from a larger pool of laborers, among other benefits.
Though locations in central and southern Mexico experience higher logistical costs than at the border, they are still lower than operations in China, and the cost of labor is often less as well. A shipment within the inner regions of Mexico still only takes one or two days to reach the border versus several weeks waiting on delivery from China.
There is also greater transportation flexibility and strong supply chain reliability. Shipping goods from China is generally limited to paying for the cost of massive shipping containers. Whereas, shipping from Mexico allows companies to cost-compare transportation and delivery options as needed, which often arrive at the final destination within the same day.
Nearshoring is a growing strategy among companies looking for the stability and streamlined efficiencies associated with manufacturing in Mexico. With the help of a shelter company like IVEMSA, a new operational setup can begin production within three to four months. IVEMSA's shelter services cover all administrative responsibilities, from HR and recruiting talent to site selection and customs compliance. Each plan is customized based on the manufacturer's individual needs.
Learn more about how the advantages of nearshoring and partnering with IVEMSA can help your company grow and succeed. Contact us today.