Preparing for the Advancement of Nearshoring to Mexico
04.06.22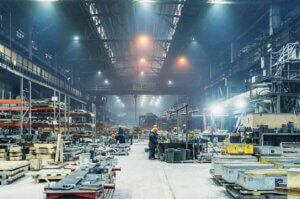 Manufacturing has evolved over the past 30 years from what was mostly a closed economy to becoming one of the largest export-driven, open economies in the world. Currently, it is the third-largest U.S. trading partner with two-way trade totaling $582.4 billion USD in 2020. Simultaneously, Mexico's IMMEX maquiladora has also grown over time. This program allows foreign manufacturers exemption from the 16% VAT tax on temporarily imported goods and materials, making it one of the key advantages incentivizing nearshoring to Mexico for foreign operators.
With financial growth comes greater opportunities but also increased competition. According to a 2021 Kearney survey, 41% of U.S. manufacturing leaders said their company has reshored at least a portion of their operations, with an additional 22% revealing plans to reshore within the next three years. Combined with the steady rise in technology and rapid product development, the question is how do foreign manufacturers prepare for this next phase of advanced nearshore manufacturing? It starts with knowing how to recruit from Mexico's highly competitive workforce and exploring industrial destinations with more room to expand.
Recruiting from a Competitive Workforce
The number of industrial jobs is beginning to exceed the number of workers available to fill them, a problem companies currently face in the U.S. To avoid the same pressures in Mexico, leaders are strengthening the connection between technical education institutions and business programs.
Engineering programs available at higher learning institutions in Mexico support a consistent flow of graduates year after year across several specialty areas, including IT and electronics, mechanical systems, and virtual engineering and manufacturing. Additionally, foreign manufacturers often partner with universities for special projects to train on skills and hands-on experience necessary for production.
One of the biggest advantages of nearshoring to Mexico is the highly-skilled, cost-effective workforce. However, in order to expand into the next phase of manufacturing growth, foreign manufacturers will need to stay competitive with regard to salary and benefits to secure the necessary talent to support their operations.
Expanding Locations Beyond the Border
Another way manufacturers can continue their increasing production levels when nearshoring in Mexico is by looking beyond the north or border region and into the central and southern parts of the country where there's more space and less competition. The logistical advantage of the U.S./Mexico border can't be overlooked, though companies pay a higher price for an area where there is more competition to get the best talent. Currently, one of the best long-term strategies is exploring other potential locations for expansion.
Areas of central Mexico including Queretaro and Guanajuato have already proven successful for development in the automotive and aerospace sectors. In addition, Merida, located in southeastern Mexico, is on the rise as a less-explored space ripe with opportunity. In these areas, labor costs are similar but turnover is not quite as high. Plus, there's greater warehouse availability with plenty of room to grow.
Nearshoring to Mexico has become an increasingly popular strategy over the past several years with no signs of slowing down. In order to prepare for this rapid growth, it's valuable for manufacturers to partner with a shelter company with the experience and expertise to optimize production. Our team handles all administrative responsibilities necessary to get an operation up and running in the most time-efficient and cost-effective way. This includes HR and recruiting as well as industrial site selection.
Contact us today to learn how nearshoring to Mexico may be the best long-term strategy for your company and how we can help you maximize the advantages.
Sources:
https://www.trade.gov/knowledge-product/exporting-mexico-market-overview
https://www.kearney.com/operations-performance-transformation/us-reshoring-index