Why Electronics Manufacturers Are Choosing Mexico for Their Expansion
12.28.21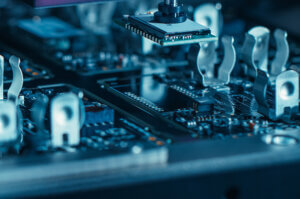 Electronics manufacturing has been one of the strongest industries in Mexico with a significant increase in foreign direct investment over the years. Global electronics manufacturers such as Foxconn, LG, and Samsung all rely on manufacturing in Mexico for the production of everything from smart TVs to circuit boards and computers to communication equipment. Due to the history of success of global companies operating in Mexico, it continues to be an ideal setup for those considering expansion.
The draw of cheap labor was once the main allure of China's manufacturing. However, industrial labor costs in Mexico are now lower than both China and the U.S., and there are others areas where China simply cannot compete. Although many U.S. manufacturers have relied on China for decades, many are reconsidering the close proximity to Mexico, intellectual property protection under the USMCA, and lower production costs as main reasons to invest in Mexico instead. Here's a closer look at what these benefits offer.
Close Consumer Market Proximity
The U.S. has one of the largest consumer markets in the world, and expanding operations to Mexico makes more operational sense than contending with the long distance to China. With complex, long-distance supply chains, there is a greater likelihood of delays or problems, which does not allow manufacturers to scale or deliver to market in a competitive way.
Conversely, the close proximity between the U.S. and Mexico reduces transportation timelines and costs while increasing the level of quality assurance available. In many cases, U.S. manufacturers work in the same time zone as Mexico and can also receive shipments on the same day.
USMCA Intellectual Property Protection
Intellectual property protection is often a challenge when manufacturing in China. With rapidly advancing technology and a highly competitive marketplace, it's essential for electronics manufacturers to preserve high standards of protection and enforcement.
U.S. and Canadian companies manufacturing in Mexico are protected by the provisions set forth by the USMCA. Among the updates to the established rules include full national treatment for copyright and related rights, a minimum of 15-year protection for industrial designs, and the establishment of appropriate copyright safe harbors to deter online piracy, among others. Manufacturers are seeking a sense of stability in a time of uncertainty and this advanced security helps meet those needs.
Skilled and Experienced Industrial Workforce
Mexico invests heavily in the manufacturing sector with more engineering graduates per capita than the U.S. Additionally, Mexico offers training programs that provide students the skills and experience they need to enter the industrial workforce and support foreign operators. This is in addition to the number of young, capable workers available compared to other markets, including the U.S., which are currently facing labor shortages without any projections of reprieve.
How Shelter Services Keeps Companies Competitive
When it comes to Mexico manufacturing, there's also the option of partnering with a shelter company. A shelter company takes on all administrative responsibilities necessary to set up and operate as a foreign manufacturer in Mexico. This starts with a site selection analysis to determine which region in Mexico is most favorable. For electronics manufacturers, the areas of Tecate, Ensenada, and Mexicali are often most favorable. They're already equipped with the supply chains and factories necessary to launch production quickly and effectively.
A shelter company also provides human resources and recruiting, tax and accounting, customs compliance, and other services necessary to get an operation up and running. As the growth of electronics manufacturing in Mexico continues, the support of a shelter company will be increasingly valuable to help companies stay competitive.
For more information about how shelter services work and can complement your operations, contact IVEMSA today.
Source:
https://ustr.gov/sites/default/files/files/Press/fs/USMCA/USMCA_IP.pdf