Manufacturing in Mexico: Logistics, Proximity, and Supply Chain
02.17.22
The stability of the global supply chain hangs as a question in everyone's mind. While the pandemic is what initially sparked a series of delays and stunted foreign operations, manufacturers are still reeling from residual challenges two years later. Companies face shipping container, component, and labor shortages as the demand for durable goods is on the rise, all of which is putting a heavy strain on the supply chain.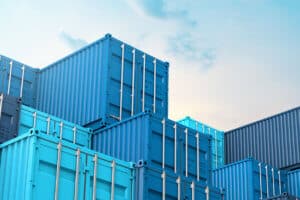 However, on the other side of this growing problem is the chance to implement new solutions. For many, that involves manufacturing in Mexico. Though China has been the long-standing solution when seeking a cheaper way to operate, it's also been the source of many significant problems. Although, Mexico has always been right on its heels, many times surpassing China as the preferred operational location.
The "Next-Door Neighbor" Mentality of the U.S./Mexico Supply Chain
Due to the close proximity with the U.S., manufacturing in Mexico feels more like a domestic purchase compared to dealing with the costs and timelines of typical international shipping. For example, if there are supplies or products not available in one of Mexico's border towns, like Tijuana or Jaurez, they can easily be sourced from their neighboring counterparts in California or Texas, respectively.
For every dollar produced in Mexico, there's a U.S. component as well, which strengthens the supply chain integration between the two countries and creates greater logistical advantages compared to manufacturing in China, such as:
Faster fulfillment and delivery – Manufacturers working in the border region of Tijuana can find components in San Diego or Los Angeles to fulfill their production needs and benefit from same-day delivery versus the extensive wait time when manufacturing in China, which is often upwards of four weeks.
Less expensive shipping costs – Rather than paying $10K for an entire shipping container from China, manufacturers operating in Mexico can simply pay for the pieces necessary rather than purchase the whole shipment.
Easy supervision for quality assurance – For operations set up along the U.S./Mexico border region, it's common for plant managers to travel back and forth between the two countries making supervision easy and greater quality assurance.
There is convenience, efficiency, and cost savings for U.S. manufacturers that choose to operate in Mexico. However, Mexico manufacturing is not a new strategy. It has served as a central operational hub for foreign companies for decades due to its established infrastructure, competitive workforce, and cost-effective benefits.
As a result of this consistency, it has nurtured a growing supply chain. There is a diverse array of suppliers across various industries continually expanding their product lines. Third-party service providers also continue to expand as manufacturers seek new opportunities. Meanwhile, this growth and success decrease the reliance on China.
Even prior to the pandemic, the U.S. continuously struggled with its manufacturing relationship with China, due to retaliatory tariffs, lack of intellectual property protection, and an aging workforce at a higher cost. Whereas, U.S. companies have benefited from manufacturing in Mexico for years, and the strengthening ties between the two countries offer the additional advantage of supply chain stability.
Simplifying Logistics with a Shelter Partner
Conducting operations closer to home in Mexico provides greater efficiencies and specific competitive advantages for U.S. manufacturers, one of which is working with a shelter company. A shelter company takes care of all administrative responsibilities necessary to seamlessly set up new operations. This includes customs compliance, legal and tax regulations, as well as HR and accounting services, which allows manufacturers to concentrate on day-to-day production.
Those who partner with a shelter company like IVEMSA benefit from a team with years of experience, knowledge, and expertise to get a foreign operation up and running in as little as three to four months with virtually no legal risk. Furthermore, operating under a shelter equals significant savings on labor, infrastructure, permits, and license fees. It provides all of the advantages with none of the hassle.
If you're considering expanding operations to Mexico, we can help. Contact us to learn more.