Mexico Shelter Manufacturing Services Defined
11.28.22
When manufacturing in a foreign country, there is a lot of behind-the-scenes work necessary to help companies understand costs and logistics leading up to the official launch. There are several administrative departments that must get involved and collaborate in the early stages to answer questions, provide cost models, schedule visits, and review files to provide a customized, cost-effective approach.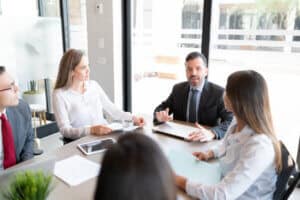 Partnering with a Mexico shelter company provides a unique opportunity for U.S. and other foreign manufacturers. There's already a multi-disciplinary team in place rather than having to hire individuals to work together as one. Additionally, the team has the collective experience and expertise to focus on economies of scale, while communicating the complexities of operational setup in a simplified way.
Furthermore, with a straightforward cost model, the comprehensive suite of Mexico shelter services all falls under one umbrella without any extraneous or surprise costs. These services cover six functional areas working together to meet the collective objectives.
Government and Legal Compliance – Oversight of environmental, health, and safety regulations as well as real estate legal compliance
With this general overview of shelter services, manufacturers can then address specific areas of concern regarding labor laws, customs regulations, manufacturing costs, etc. which will factor into their chosen approach. There are four ways IVEMSA offers to help businesses maximize efficiency and minimize risk, each of which can be tailored to suit each company's needs.
Shelter Operations
Under this model, the shelter is responsible for leasing the facility, recruiting employees, submitting tax payments, and obtaining the necessary permits and licenses to do business. Essentially, everything needed on the administrative side is taken care of, which allows company leaders to focus on production. It is the most preferred method for U.S. and other foreign manufacturers setting up operations in Mexico.
Standalone Operation
Some companies prefer to work as a standalone model versus under the shelter umbrella. With this option, the value of Mexico shelter services still applies. The only difference is the shelter does not maintain legal exposure since the company will be operating using its own entity or corporation. Under this model, the shelter provider will work with you during the incorporation of this new Mexican company that will be used to establish the operation and conduct the business.
However, all administrative responsibilities are still handled, including recruiting, payroll, HR, accounting, and trade compliance. It's important to note this option requires a longer setup time, closer to six to seven months, compared to the three to four months it takes with a shelter. The reason for this extended time is that all permits including the IMMEX program must be obtained from scratch since you are operating through a brand-new entity.
Start-Up Program
This fast-track solution allows companies to delegate obtaining permits and registrations, including IMMEX program certification, to the shelter before they continue the rest of the setup process on their own.
Selected Administrative Management and Compliance Services
There are situations that call for a few chosen services tailored to an individual entity's needs. These include but aren't limited to HR services, payroll processing, international trade compliance, and site selection services.
With over 40 years of working in the industry, IVEMSA has installed over 150 operations in Mexico and maintains a 10-year average customer retention rate. We value our partnerships and are invested in our customers' growth.
If you want to learn how our shelter services can support your manufacturing goals, contact our team today.