Standalone vs. Shelter: Which Mexico Manufacturing Solution Makes the Most Sense?
07.20.22
Economic changes over the past few years have readjusted manufacturing strategies moving forward. Companies that have previously relied solely on China for their production capabilities have turned their attention to Mexico as its future operating destination.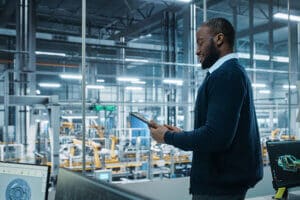 Mexico manufacturing solutions provide cost-saving benefits for U.S. and other foreign operators, and there are two main ways to get started. Companies can choose to operate as a standalone entity or partner with a shelter services provider. Both options hold value but have significant differences. Here are four areas to consider when choosing which is best for your manufacturing goals.
Management Team
To get an operation up and running in a foreign country requires hiring several specialist positions, including HR, accounting, legal, and customs. As a standalone entity, each of these is hired individually and is expected to work together to ensure all administrative tasks are completed and regulations are intact. Whereas, with a shelter company like IVEMSA, a full administrative team is already in place, which reduces costs and allows manufacturers to fully focus their attention on production.
Risk and Liability
There are various factors to consider when operating in Mexico as a foreign manufacturer. A shelter is the safest way to do business since it serves as the legal entity versus having to establish one as a standalone company. Additionally, IVEMSA already has permits and certifications in place necessary to comply with Mexico's laws and regulations, including IMMEX maquiladora registration, which offers 16% VAT exemption on all temporarily imported manufacturing goods and equipment.
Read more: IMMEX vs Contract Manufacturing.
Setup Timeline
The complex nature of setting up a new legal entity can take six to seven months. On the other hand, a shelter company can launch production in three to four months. Shelter services also provide flexibility. They are designed to help U.S. and other foreign manufacturers "graduate" from the shelter program and eventually become their own entity. And, if production plans change or a manufacturer decides it's not the right option, it's easy to switch paths sooner rather than later.
Overhead Costs
There's an estimated cost savings of 30-35% when working with a shelter compared to the overhead costs of a standalone entity. Some of these areas of savings include HR, accounting, trade compliance, and consulting. Without a shelter, expenses for these administrative positions as well as necessary software fees could equal upwards of $10,000 a month. Though both Mexico manufacturing solutions offer cost-effective labor, proximity advantages, and protections under the USMCA, there is still a greater advantage with the shelter option.
Thousands of manufacturers have already benefited from the support of a shelter and the advantages of operating in Mexico. Regardless of time spent in the industry, there's always new factors to consider when starting production in a foreign country.
When looking for a reputable solution to make the transition to Mexico more seamless, we're dedicated to helping companies find the solution that fits best for them. IVEMSA offers nearly 40 years of experience and maintains a customer retention rate average of 15 years.