Which Mexico Manufacturing Sectors Have Seen the Greatest Surge in 2020?
11.05.20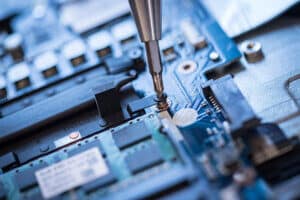 U.S. manufacturers have historically opened factories in China as a cost-effective strategy to meet product demand. However, an increase in American companies are considering their options, and many have begun shifting their operations to Mexico or at least expanding their portfolio to include Mexico as part of their foreign investment.
In a report published by law firm Foley & Lardner, it gained insights from 150 senior manufacturing executives and reported 59 percent have either already withdrawn operations from China or are in the process of doing so and moving manufacturing to Mexico, Canada, or the U.S. Challenges due to COVID-19 and the trade war between China and the U.S. have been noted as deciding factors. These add to the other considerations of making the strategic move closer to home, which include Mexico's cost-effective labor, United States-Mexico-Canada Agreement (USMCA) trade regulations, and greater stability within the supply chain.
Key sectors have been nearshore manufacturing in Mexico for years, including the automotive and medical device industries, although certain categories, such as electronics and e-commerce have also begun to make a greater shift toward the growing opportunities in Mexico due to the current economic state.
Automotive
Automotive manufacturing has been the main sector in Mexico for years. According to the Center for Automotive Research, 39 percent of auto parts used in the U.S. were imported from Mexico in 2019. Manufacturers such as General Motors, Ford, Fiat Chrysler, and Toyota Motor have relied on Mexico manufacturing for years. Their long history of success has encouraged other companies and brands to set up and expand their operations south of the border as well.
With growing retail sales up 35 percent year-over-year in May of this year and the increase continuing into June, Bombardier Recreational Products (BRP), a North American off-road vehicles business, was the first public investment in Mexico following the official implementation of the USMCA in July 2020. It's scheduled for a facility in Ciudad Juarez, which will represent an estimated CA$185 million investment and the creation of over 1,000 permanent jobs. This advances the company's previous foreign investment and now totals within CA$275 million and CA$300 million.
Additionally, over the past two years, Los Angeles-based Motorcar Parts of America has invested more than $30 million USD in a Tijuana production facility to remanufacture automotive parts, including alternators, starters, and brake power boosters, products which the company previously made in China. Brake Parts, Inc., based in Illinois, is another example of a foreign investment in Mexico that's been profitable. It reported that within two years of opening its Nuevo Laredo manufacturing facility, it had already exceeded production expectations.
In addition to the cost and proximity advantages, U.S. and other foreign manufacturers want a better sense of security and stability with regards to their investments. This year's economic challenges due to COVID-19 have also motivated manufacturers to consider a shift to nearshore manufacturing in Mexico from China. According to the Washington Post, China's exports declined by 11.4 percent during the first quarter of 2020 compared to the previous year.
Medical Device
Over the past 20 years, Mexico has been one of the main suppliers of medical devices in North America. Most ventilators made in Mexico are exported to the U.S. However, the steady demand hit a surge with a reported thousand-percent increase in 2020 due to COVID-19.
The reliance and expansion of resources in Mexico for medical device manufacturing became even more necessary as supply chains were shut down in China and restrictions were enforced. Companies generating the supply chain include Integer, Hillrom, and Becton Dickson and Company, all of which have Tijuana-based facilities and produce batteries for ventilators, noninvasive ventilators, thermometers, and catheters and IV sets, respectively.
The spike has also caused many non-medical device manufacturing companies, including MFI International, a textile company that has operations both in El Paso and in Mexico in Ciudad Juarez, to shift their operations to meet the need for personal protection equipment. Automotive companies like Ford and General Motors have teamed with medical firms like GE Healthcare and Ventec Lifesystems in order to reconfigure supply chains to quickly produce respirators, masks, and face shields to meet the domestic need from the U.S.
Electronics
At the beginning of 2020, nearly 3.4 percent of the U.S. population was already working remotely. In the wake of COVID-19, most large corporations have shut down in-person operations until at least 2021, and one in five surveyed chief financial officers say they plan to keep at least 20 percent of their workforce working remotely to cut costs. This means an increase in electronics manufacturing for everything from video recording and communication, video calling, collaboration platforms, webinar tools, remote HR tools, and live streaming for people's at-home workstations.
The same kind of demand is in place for gaming systems. People spending more time at home during the pandemic have sought out video games as a main source of entertainment. The NPD Group reported video game sales in North America were up 34% in March 2020 compared to the year before.
As with the medical device industry, the current demand is exceeding the regular supply, which is causing many American companies to consider nearshore manufacturing in Mexico. With a closer proximity, cost-effectiveness, and a more stable supply chain than China, it's become the forefront of business strategies as manufacturers look toward the future.
E-Commerce
Another growing category is e-commerce, as there's an increased reliance for online shopping among users old and new. Statistics show 80 percent of consumers intend to return to shopping online for non-essential products later in the year, and projections say e-commerce sales may go as high as $6.5 trillion in 2023. Within this sector, areas that are seeing a massive surge are office supplies, health and beauty, housewares, home improvement, and toys and hobbies categories.
Companies considering the best strategy for their e-commerce fulfillment centers can benefit from Mexico's established supply model and the unique advantage of the Section 321 Program.  The Section 321 Program allows American companies to move their finished goods from their facilities in China to Mexico and then ship to the U.S., at which time the products are then tax- and duty-free. Also, by working with a shelter services company or directly with a logistics company, manufacturers can ensure their products are delivered accurately and on schedule.
Explore the Benefits of Mexico Manufacturing with IVEMSA
The growth of Mexico manufacturing continues to evolve. As companies strategize for expansion to meet rising demand, formulating a customized solution is best. With IVEMSA, you get the expertise and experience of everything necessary to set up and maintain successful operations in Mexico.
For more information about the benefits of working with IVEMSA and ways your company can grow, contact us today.