Is Mexico Manufacturing More Cost-Effective Than China When It Comes to Wages?
10.20.20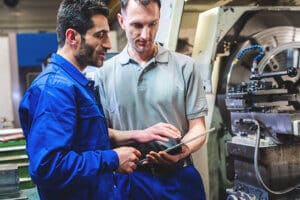 Evaluating costs plays a significant role in any manufacturing strategy. In years past, China was the top option for U.S. companies that wanted to benefit from low labor costs while meeting high demand. More recently, though, wages in China have risen and, on average, have outpaced the labor costs in Mexico.
According to Statista, from 2019 to 2020, manufacturing labor costs per hour for China increased from $5.78 to $6.50 USD, while Mexico experienced a much smaller increase from $4.66 to $4.82 USD over the same time period. Of course, it's necessary to take into account the level and wage differences between jobs in both countries when making a comparison.
In our recently updated manufacturing costs guide, we expand upon the cost differences between China and Mexico manufacturing, including labor, energy, transportation, and industrial lease space savings. Furthermore, when including other advantages of Mexico manufacturing to the overall value, it takes a stronger lead over China as a strategic option for those that want to diversify their portfolios.
Consider Cost vs. Value Between the Two Countries
In addition to lower labor costs than China, the value of the workforce in Mexico makes nearshore manufacturing an alluring strategic move. First, Mexico recognizes greater productivity with a 48-hour workweek compared to the usual 40-hour workweek before overtime pay is considered.
Second, the regional government in Mexico invests in and promotes education and training programs specifically in technical industries to support the skills necessary to excel in manufacturing in various types of roles. There are over 2,500 higher education institutions, some of which partner with U.S. and other foreign companies for projects, that teach and train the local workforce specialized industrial skills.
Third, there's the unique opportunity of working with Mexico shelter companies to maximize cost savings in all areas of operations, including hiring and retaining top employees. IVEMSA can create a customized cost analysis based on your company's project goals and timelines as well as guide operational setup to save time and money.
The shelter model offers its own cost benefits, such as tax exemption through the IMMEX maquiladora program and VAT tax certification, savings on permits and licensing fees, and reduced spending on outside consulting. It takes on the administrative responsibilities of setting up operations, which allows manufacturers to remain solely focused on production and quality assurance.
This is in addition to the close proximity of the U.S. to Mexico versus China, strong trade relations across North America, and the consistent foreign direct investment in Mexico that has led to the stability and expansion of global companies across multiple manufacturing sectors.
Compare Options with a Customized Cost Analysis
The manufacturing industry has shifted over the past several years, especially when it comes to addressing where the most cost-effective regions are situated. As trade problems continue to emerge between the U.S. and China, Mexico remains a strong contender for companies that are planning for the future. Whether deciding to diversify operations or move them all together, the cost-effectiveness and inherent value of Mexico manufacturing holds steady.
To receive a customized, comprehensive cost analysis and learn how IVEMSA can help your company save money, contact us today.
Source: https://www.statista.com/statistics/744071/manufacturing-labor-costs-per-hour-china-vietnam-mexico/;