Advantages of Nearshoring to Mexico in 2020/2021
08.20.20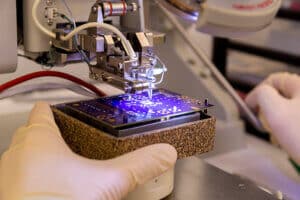 The advantages of nearshoring have benefited U.S. manufacturers for decades. Some of the largest global corporations have relied on Mexico to expand their operations in a cost-effective and efficient way. As the industry continues to evolve, especially now amidst the Covid-19 pandemic, the value of having a nearshore or manufacturing operation in Mexico is becoming all the more prominent.
Whether it's an immediate decision or part of a long-term strategy, nearshoring opens up opportunities for companies that want to keep or move their facilities closer to home. As businesses begin to define what the new normal looks like in 2020 and beyond, it's smart to review the advantages of setting up operations in Mexico. These include:
A safe and secure solution with limited exposure to the coronavirus when compared to China
Favorable trade relations in North America through the approved USMCA, which officially went into effect July 1, 2020
The longstanding success of nearshoring to Mexico among various categories within the manufacturing industry
To build an operational setup that is structurally sound and can be customized to adapt to the ever-changing climate, it's best to partner with a full-service shelter company like IVEMSA. Through its decades of experience and expertise, in addition to a built-in network of resources, IVEMSA serves as an all-inclusive solution to meet all nearshoring demands.
Safe and Secure Solutions Amidst Covid-19
Although China is a top international competitor of Mexico's, U.S. manufacturers are beginning to reconsider their future plans and lean toward diversifying their portfolios by assessing the advantages of nearshoring operations across the border. Currently, the limitations and concerns for exposure to Covid-19 regarding air travel make it challenging to conduct operations in Asia.
On March 28, 2020, the People's Republic of China (PRC) suspended entry into the country. Since then, there have also been reduced or suspended routes for commercial air carriers to and from the PRC. As of August 18, 2020, China is still categorized as a Level 4: Do Not Travel zone due to continued Covid-19 travel and quarantine restrictions, per the U.S. Department of State – Bureau of Consular Affairs.
Conversely, the U.S./Mexico border has remained open for trade and is much closer in proximity. This helps minimize shipping costs and timelines and makes it easier for traveling to and from manufacturing sites as needed. In addition, IVEMSA has found, on average, that businesses see a 40-50 percent savings in labor costs in Mexico (compared to the U.S.). Whereas, China labor costs are not what they once were. Manufacturing labor costs have continued to rise by 15.6 percent per year over the past decade, and in 2018, they were estimated to be $5.51 USD per hour compared to an estimated $4.45 USD per hour in Mexico, per Statista data.
Navigating the new normal when manufacturing in Mexico maintains the same advantages as before, with adjustments in place to adapt to safety and sanitation protocols. Although the pandemic is unprecedented, the need to quickly pivot is not, and shelter companies continue to be a valuable partner to foreign manufacturers as they move forward.
Favorable Trade Relations Per the USMCA
In addition to challenges with proximity, the U.S. and China continue to be enmeshed in trade conflicts and political tension, which create an uncertain future with regards to intellectual property protection, increased tariffs, and delayed shipments. The most recent conflict regarding TikTok and the perceived national security risks it carries doesn't affect the manufacturing sector, but it does perpetuate the bad business relations between the two countries.
This combined with the ongoing trade war that began in 2018 is yet another reason why many manufacturers want to at least put a secondary plan in place to enact if and when necessary. In a time where it seems like there aren't a lot of options, the importance of nearshore manufacturing operations remains, allowing companies to expand and thrive.
Unlike with China, U.S. manufacturers have long depended on nearshore manufacturing operations to Mexico because of the cost-effectiveness, convenience, and agreeable trade relations set forth first by the North American Free Trade Agreement and now replaced by the United States-Mexico-Canada Agreement. Having measures in place that protect trade relations instills a greater sense of safety and security, which proves even more beneficial when dealing with a pandemic.
History of Success When Nearshoring to Mexico
Manufacturers that are considering moving facilities from China to Mexico, expanding their current U.S. operations or managing sites in more than one country can follow a blueprint of those that have come before them. There is a long history of success among complex industries, such as medical device manufacturing in Mexico, as well as the electronics, aerospace, and automotive sectors. Ford, Toyota, Samsung, and LG are a few of the many powerhouse companies that have benefited for the past several years.
One of the unique advantages is working with a shelter company and Mexico's IMMEX maquiladora program. IVEMSA covers all aspects of what it takes to set up and sustain manufacturing in Mexico, while minimizing the risk and liability burden placed on U.S. companies. In addition to the advantages of nearshoring to Mexico with regards to logistics, cost-effectiveness, highly-skilled labor, and support from the USMCA, IVEMSA also offers the benefits of 3PL logistics, freight forwarding, and the Section 321 program as well.
By partnering with its sister 3PL logistics company, the inventory and shipping process is expedited and streamlined to meet ongoing demand. Additionally, as an all-inclusive organization, IVEMSA coordinates and manages compliance for shipping materials from Mexico to the U.S. and vice-versa as part of the customized solutions for each manufacturer. Finally, with freight forwarding as part of day-to-day operations, full traceability follows items as they leave the warehouse until they arrive at their final destination.
Nearshoring as part of the new normal focuses on improving current protocols and procedures that have been successful for decades while leaving room for both agility and adaptability for U.S. manufacturers thinking about making the move to Mexico In the next few years.
For additional information about the diversified manufacturing solutions IVEMSA offers, contact us today.
Sources: https://travel.state.gov/content/travel/en/traveladvisories/traveladvisories/china-travel-advisory.html; https://www.businessinsider.com/donald-trump-tiktok-ban-us-china-explained-in-30-seconds-2020-8; https://www.bcg.com/en-us/publications/2018/china-next-leap-in-manufacturing; https://www.statista.com/statistics/744071/manufacturing-labor-costs-per-hour-china-vietnam-mexico/