COVID-19 Update: How IVEMSA Is Helping U.S. Manufacturers During This Time
04.14.20
In the wake of the COVID-19 pandemic, the health, safety, and efforts of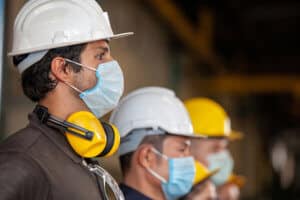 manufacturers are increasingly important, especially within industries deemed essential, such as those affiliated with medical devices, IT, and telecommunications companies. Changes are happening on a day-to-day and sometimes hour-to-hour basis and IVEMSA is actively working with clients to determine whether they should remain open and if so, how they can best protect their workers. We are committed to helping clients do what is best for their employees and their business.
For added safety, IVEMSA is taking precautionary measures by supplying personal protection equipment (PPE). We've purchased 5,000 masks, 100 boxes of latex gloves, and 120 liters of antibacterial hand sanitizer that is being distributed to employees. This includes employees that are currently sheltering in place at their own homes.
While the masks are not N95 masks, as those are reserved for health care personnel, they do serve as an extra layer of protection as recommended by the CDC. We also have a medical device manufacturing client who is in the process of purchasing additional face shields for their employees working in the factory. It is with gratitude that we're able to assist manufacturers that must remain open to provide the critical materials and products needed, such as life-saving medical devices, during this pandemic.
Working with Businesses to Adapt to U.S. and Mexico Guidelines
There are a few differences in what the U.S. government has deemed essential business and what Mexico has granted that application. For example, in the U.S., defense contractors and vendors are considered essential; this includes aerospace manufacturing. However, currently in Mexico aerospace and defense are not considered essential.
We are working with our aerospace clients to get permission to reopen so they can continue providing the products the U.S. deems essential. In this instance, IVEMSA advises all U.S. manufacturers in Mexico follow the Mexican guidelines and work to get the proper permitting. Additionally, if a client has taken the mandated safety precautions and still had to temporarily shut down, but believe their products are essential, we are working closely with them to secure the permits and implement the procedures needed to reopen.
With that being said, the situation is ever-changing and the most important thing is to follow all the rules the government is putting in place as the health of the workforce is the most critical element. This requires a daily consideration with regards to operations and areas that may need adjustments. The constant need to pivot may require temporary closures or a scaled-back workforce to accommodate social distancing and other health standards currently set into place.
IVEMSA wants to ensure that all employees are kept safe and healthy and that essential suppliers and businesses can maintain operations as their contributions are critical. COVID-19 has created chaos in many ways, but we are here to help manufacturers and employees feel supported and protected. We will continue to provide updates as they occur and stand with our clients as they continue to adapt.
If you need assistance in securing permits, need updates about how to implement additional safety precautions as required, or want extra assistance through a chaotic time, we are here to help. Contact us today.