4 Benefits of Investing in Nearshore Manufacturing in Mexico
10.20.20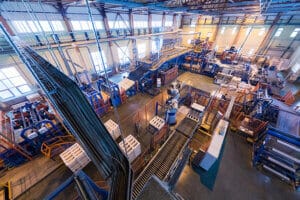 Pursuing nearshore manufacturing in Mexico requires strategic planning and a streamlined process that results in a timely, successful setup. For decades, global companies have reaped the benefits of Mexico manufacturing and have allowed many to grow their facilities and expand their reach even further. When considering this option as part of your future business strategy, here are four proven reasons that illustrate how the investment pays off.
#1: Tax Savings Through the IMMEX Maquiladora Program
Manufacturers approved through the IMMEX maquiladora program and qualified for VAT certification are exempt from 16 percent of value-added tax on temporarily imported tools, equipment, and materials. Typically, it takes several months for new manufacturers to receive these licenses and not all are initially approved. However, by working with a shelter services company like IVEMSA, companies can benefit from these tax savings from day one by using the licenses they already have in place.
#2: Highly-Skilled Technical Workforce
Mexico has a positive track record of how much and how well it invests in its technical education and training opportunities. The result is a younger, competitive workforce made up of a range of skill levels continuously ready to fill positions of foreign manufacturers expanding their operations.
Additionally, the proximity of the U.S. to Mexico makes it easier to train, oversee, and audit employees, which allows for better quality control versus what is feasible when managing employees in China. The commitment to industrial education and expertise combined with the level of quality assurance available for U.S. companies supports an investment in Mexico.
#3: Free Trade Agreements and Expansive Networks
Thanks to the historical support of NAFTA and the recently updated USMCA that's replaced it, the U.S. and Mexico continue to engage in favorable trade relations, as those between the U.S. and China decline. Per a 2020 Congressional Research Service report on U.S. and Mexico economic relations, Mexico surpassed China as the top trading partner of the U.S. in 2019.
The top U.S. imports from Mexico during this year included transportation equipment, computer and electronic products, electrical equipment and appliances, and machinery, all of which totaled $246.3 billion USD during. Furthermore, Mexico is part of 14 free trade agreements across more than 50 countries that help manufacturers reduce trade barriers and drive cost incentives.
#4: Established Supply Chains and Facilities
Mexico has secured its place in the manufacturing industry and supplies the kind of infrastructure and supply chains that evoke confidence in new companies nearshore manufacturing in Mexico, as well as manufacturers that wish to expand their current operations to even larger facilities.
For example, Mexicali remains an optimal choice for manufacturers among multiple industry concentrations, particularly automotive and electronics, due to its proximity to the U.S.-Mexico border. It has a maquiladora workforce of over 75,000 employees and is home to companies including Gulfstream, Collins Aerospace, and GKN Aerospace.
Moving inward toward Central Mexico, Querétaro has established itself as a region set up particularly for the aerospace sector. Its local government has invested in new training programs and a university focused on maintaining a highly-skilled aerospace workforce. These are two of several examples throughout the country where the manufacturing industry thrives.
Streamline Operational Setup with IVEMSA
The benefits of nearshoring manufacturing in Mexico are plentiful, but it takes time, resources, and operational coordination to make it as cost-effective and efficient as possible. Working with IVEMSA allows your company to benefit from decades worth of experience and expertise with customized solutions to get your operation up and running as soon as possible.
To start, we can create a cost analysis that includes a regional overview of recommended manufacturing hubs based on your specific sector and operational goals. For more information about maximizing your investment when nearshore manufacturing in Mexico, contact IVEMSA today.
Source: