Manufacturing in Mexico: A Quick Guide to Determine the Best Operations Model for Your Company
02.24.21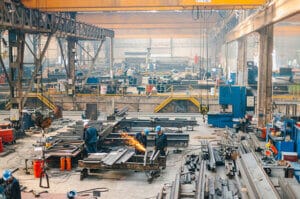 Determining the most cost-effective way to conduct business is one of the driving factors that causes manufacturers to switch strategies and often, switch locations. Between the ongoing conflicts regarding trade with China and the alluring benefits of manufacturing in Mexico, more companies are considering expanding their operations south of the U.S. border.
Whether a company wants to relocate their factory in Asia back to North America or experience lower manufacturing costs as they expand certain parts of their operation, a shelter service operation is typically the best option to optimize time and efficiency.
Although each project has its own specifications, there are a few important areas that remain the same across the board when it comes to Mexico manufacturing under the shelter program. These include considering timeline and location, as well as responsibilities and ownership. Common questions about the process include:
How long will it take to get up and running?
Where should I set up my operation?
Will I be sharing space with other companies?
Who owns the machinery and assets?
Does the Mexican government recognize my business as a legal entity?
This quick guide will provide answers to these questions and highlight why a shelter service solution might be the best fit for your company.
Reduce Startup with an Efficient Timeline
Efficiency is crucial to save on time and money. When partnering with a shelter services operator, businesses can expect to start operations approximately three months after signing a building lease agreement. Alternatively, for those that decide to go the standalone route, the timeline is closer to six or seven months.
Operating as a standalone takes additional time to establish the proper permits and certifications and coordinate other parts of the setup. Fortunately, IVEMSA offers both: full shelter services or guidance for manufacturers working as a standalone operation. However, if timeline is a major factor, working under a shelter is the faster way to go.
Source the Right Location with a Site Analysis
After deciding whether to move forward under a shelter or as a standalone entity, the next main decision is determining the right location for your project. Knowing which areas provide the best opportunities with regards to leasing costs, space availability, and specialized labor is key to success.
IVEMSA makes it easier for manufacturers to make a decision by taking on the process of researching and comparing spaces in different regions. With a customized site selection analysis, manufacturers can see areas side-by-side, evaluate the pros and cons of each, and feel confident in their site selection. Ultimately, the lease is signed by IVEMSA as the legal entity on behalf of a company, and the space is not shared with other operators.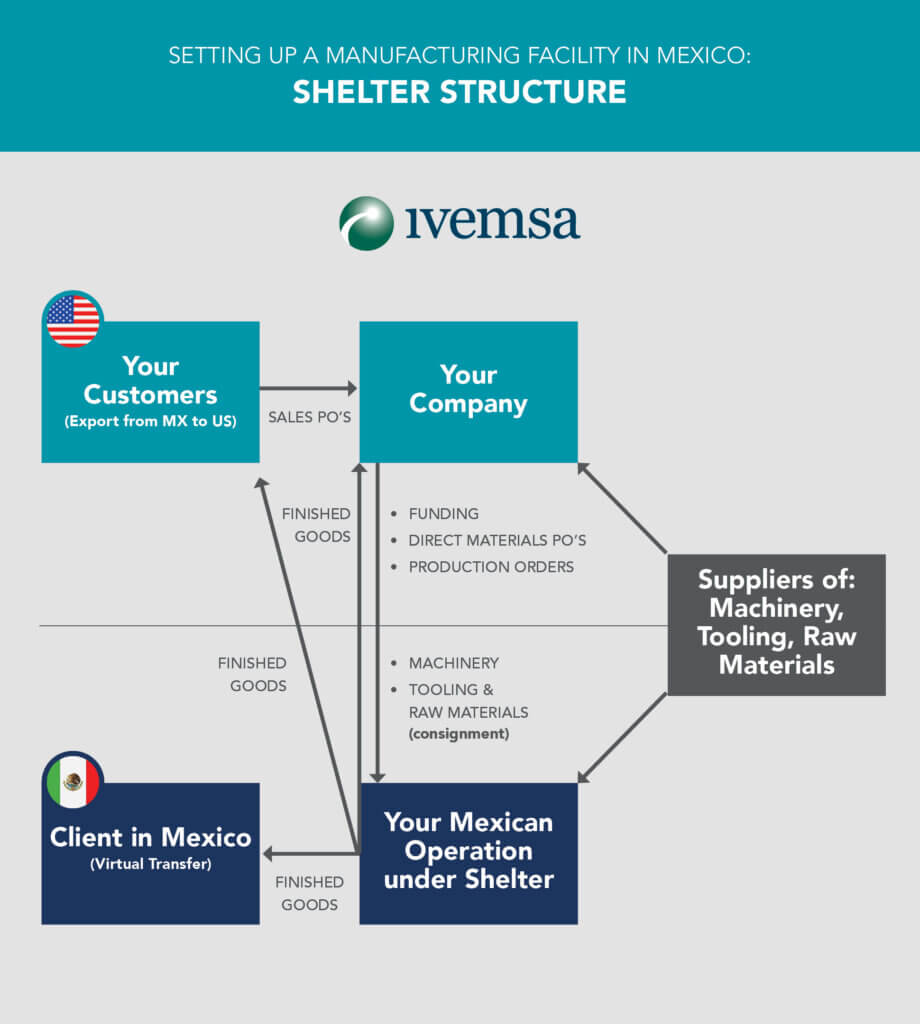 Establish Clear Division of Responsibilities and Ownership
When manufacturing to Mexico for the first time, many manufacturers want to know how responsibilities and ownership are divided. Working with a shelter services provider alleviates many of the responsibilities involved as part of an operational setup. However, companies still maintain full ownership of all manufacturing processes, materials, inventory management, and quality assurance.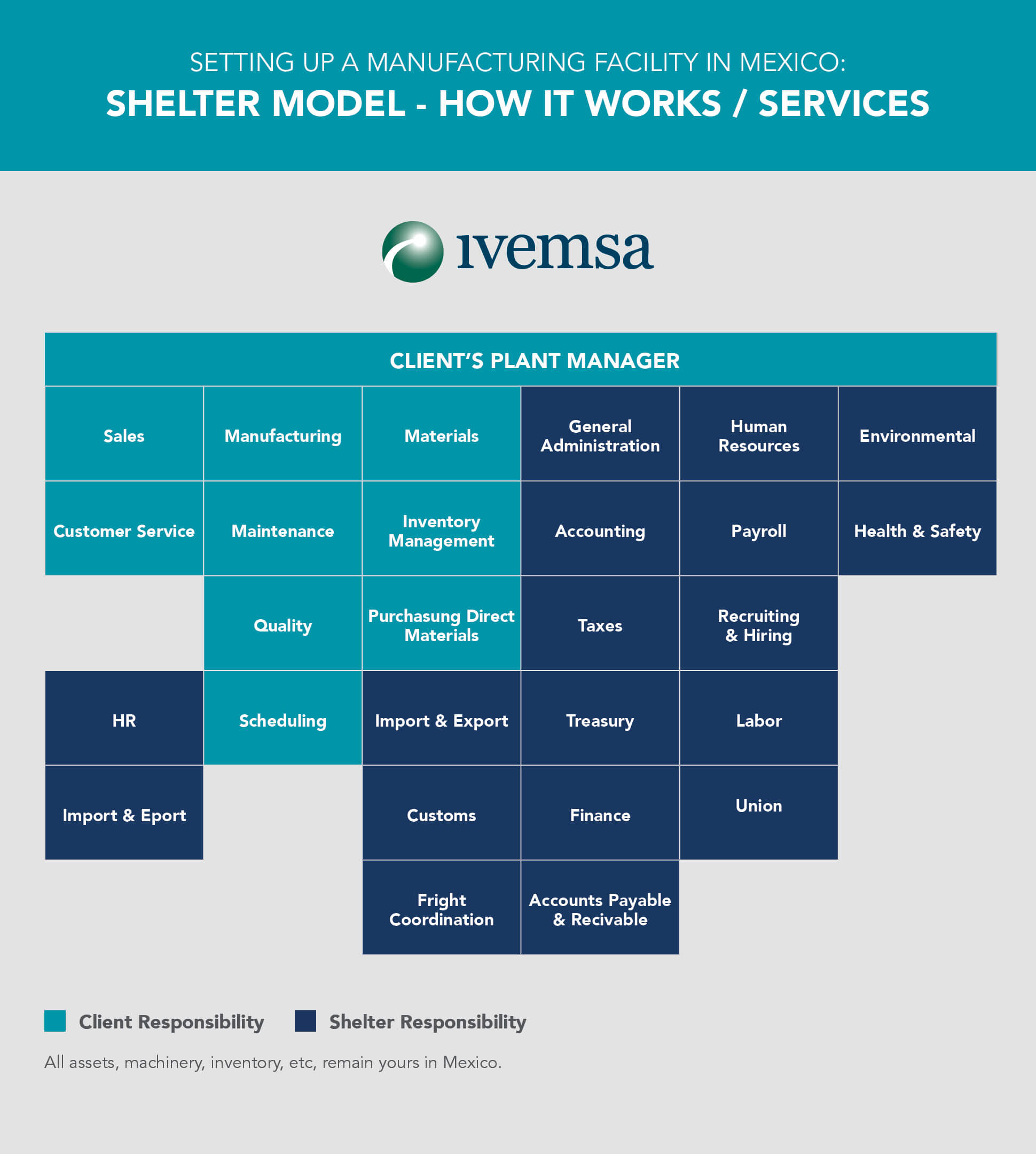 They have complete control over which employees to hire, how much to pay, vendors to work with, and other details that come into play when expanding. Essentially, manufacturers have total autonomy, while gaining the benefits of having the experience and expertise of an established entity through IVEMSA. Among the many services IVEMSA handles include:
Administration
Accounting
Human resources
Taxes
Customs compliance
Recruiting and hiring
Having these types of tasks taken care of leaves companies more time to focus on the manufacturing itself, which is why the majority of those manufacturing to Mexico choose to work with a shelter. It's the most time-efficient and cost-effective option when compared to a standalone, contract, or consulting route.
IVEMSA offers different levels of services depending on what your company needs. Though most decide to benefit from the full suite of shelter services, some may need consulting during the site selection phase only, and others may want to explore the standalone route.
Our goal is to find what works best for your company when it comes to manufacturing in Mexico. Contact us today to start your free consultation, and we can explore what is going to be the best fit.