What It Takes to Create a Standalone Entity in Mexico
07.16.19
The majority of U.S. companies that are considering manufacturing in Mexico turn to the help of an experienced shelter provider to get their operations up and running in the fastest, most effective way possible. However, a small percentage opt to start their own standalone entity. This route is far more time-consuming, requires the manufacturer to bear the full brunt of risk and liability, and results in more of a cost burden, especially when it comes to taxes.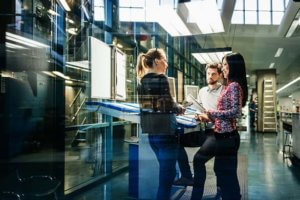 There are several considerations to factor in when starting a new entity of any kind, especially when it involves doing business in a foreign country. Certain regulations and procedures are required when incorporating in Mexico, which could stall plans to start operations and/or become more costly if doing it on your own.
Read more: U.S. Manufacturing in Mexico FAQ
To start, every foreign company that sets up manufacturing in Mexico must operate under a maquiladora through the IMMEX program. The approval process can carry on for several months and requires maintaining detailed records and tracking inventory under the correct status. Since this can be a significant burden on any manufacturer, this is a prime reason why companies choose to work under a shelter provider from the beginning.
Working under a shelter means manufacturers can operate through its already-secured business license and don't have to worry about the setup and administrative processes. This leaves more time for them to focus on company training and production. Additionally, one of the many challenges of working as a standalone entity is that manufacturers must also have enough knowledge about the foreign business or hire separate vendors with experience in:
Corporate taxes (including income tax, VAT, and payroll taxes)
Employment, international trade, and immigrations laws
Regulatory business compliance requirements where applicable
Companies must obtain all necessary licenses, permits, and certifications prior to operation and set up all HR, accounting, and IT departments. In order to succeed as a standalone entity, it requires establishing connections with different organizations in Mexico as well as individual experts to ensure everything follows compliance before operations can begin. If you decide to go this route, it's still highly recommended to seek guidance from a shelter company. Partnering with a shelter that's well-versed in all that's required and has decades of experience working with U.S. manufacturers can significantly help to save on time, costs, and delays in production.
Hiring Experts and Administrative Responsibilities
Without the help of a shelter provider, a standalone foreign company must first connect with an individual or firm that can help gather all the necessary information and submit the various paperwork to the appropriate government agencies by the given deadline. This assignment is usually given to a lawyer or accounting firm that handles the majority of these administrative tasks. The more reputable and experienced the company or person handling the process, the more likely that the documents submitted will be correct and on time. A few of the items to consider during the initial setup includes:
Type of company (corporation or LLC) – The determination of the type of company to file as will impact how the company's taxes, general liability, and shareholder profits are handled.
Company name approval – Three company names must be submitted (in order of preference) to the Department of External Affairs to ensure they're not already taken.
Creating the company's articles or bylaws – Once the company name is approved, a notary will draw up the articles of incorporation, which detail ownership structure, business activity, and appointed power given to individuals in certain capacities.
Obtain identification, permits and registrations – Once the articles or bylaws are signed and registered with the applicable government agencies, the new company can request a federal tax ID number. Only then can the company proceed in obtaining other required registrations and permits.
Filing Permits and Obtaining Registrations
Depending on the type of business activity of the new company, there is a list of documentation required from one or of the following agencies:
Ministry of Foreign Affairs
Public Registry of Commerce
Mexican Social Security Institute
Ministry of Finance and Public Credit
Department of Commerce and Trade
Mexican Customs
Department of Environmental Health and Safety
Department of Labor and Social Provision
There may be other departments not found on this list that may require certain information. It's the responsibility of the standalone entity to know what is required. The length of this process varies, but generally, it takes between 30 and 60 days to gather, sign, and notarize all the necessary paperwork. One notable exception is the VAT certification, which is necessary for manufacturers that want exemption from VAT tax on the import of their raw materials and equipment. This approval process can take more than six months to obtain. When working with a shelter provider, exemption from VAT payments is automatically included.
The process of forming a standalone entity in Mexico seems relatively straightforward. However, there is a long checklist of what's required that involves working with several different departments and vendors. This typically adds months to the timeline of when production is expected to begin. By working with a trusted shelter partner, U.S. companies benefit from a smoother process and a strong depth of knowledge to help set up manufacturing in Mexico more quickly and easily. Companies also save on VAT payments, reduce their legal risk and liability, and have a partner in Mexico that handles everything required to set up operations.