The IMMEX Program: A Brief Overview for Manufacturers
04.14.21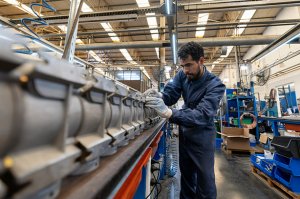 Since its debut, the benefits of Mexico's IMMEX program has been a guiding factor in the decision-making process of nearshoring to Mexico. When it was first introduced in the 1960s, it was simply referred to as the maquiladora program.
It began as an effort to attract foreign investment to Mexico and establish factories throughout the country, particularly along the northern border. The main benefit for U.S. manufacturers being temporarily importing goods, raw materials, and equipment duty-free.
By the end of the decade, the numbers grew to more than 100 maquiladoras employing over 15,000 Mexican workers. Despite a U.S. recession in the mid-1970s, there continued to be a slow, yet steady increase, with the number of maquiladora employees nearly doubling.
Throughout the '80s and into the late '90s, the maquiladora industry grew exponentially, reaching 1.1. million workers by 1999. During this significant growth phase, General Motors had become Mexico's largest employer with average wages equaling approximately $3 USD per day.
During this time, the introduction of NAFTA in 1994 also expanded the power of the IMMEX program, generating 48 percent of Mexico's exports by the year 2000. Since then, companies have witnessed the success and stability of the IMMEX maquiladora program and how it benefits their nearshore manufacturing operations.
It allows U.S. and other foreign businesses to operate more cost-effectively and at a lower risk. To truly appreciate the history of the IMMEX program, it's beneficial to review the unique advantage it offers those that choose nearshoring to Mexico.
Advantages of Nearshoring to Mexico Under the IMMEX Program
The deferment of taxes on temporarily imported goods is the leading benefit of the IMMEX program. However, the experience of working with a reputable shelter provider increases the value of nearshore manufacturing to Mexico. By working with a shelter, companies benefit from tax savings, while maintaining complete operational control and finding a sense of stability and confidence when expanding their operations.
Tax Savings
Cost savings has always been one of the top advantages of nearshoring to Mexico. Under the IMMEX program, manufacturers can temporarily import all necessary assembly supplies and equipment to Mexico. Since those imports are temporary and will be used to manufacture finished goods that eventually will be exported out of the country, they are exempt from the payment of Mexico's VAT tax (16%).
Further benefits apply when companies partner with a shelter service provider. When you operate under a shelter partner already part of the IMMEX program, it also allows manufacturers to minimize their risk and liability, launch production within three to four months, and maintain full operational control.
Operational Control
The IMMEX program made investing in Mexico a cost-effective choice that presented new opportunities. Under the guidance of a shelter provider, it offers an even greater assurance of operational success when compared to contract manufacturing, which relinquishes at least part of production oversight, quality control, and logistics.
IVEMSA has the expertise and insight to assist with project setup while leaving companies in full control of all of their assets, equipment, and everything on the manufacturing side. This includes but isn't limited to: HR, trade, payroll, taxes, customs compliance, and other administrative responsibilities. Sending assets and equipment to China is taxing and time-consuming and may not carry the same protection and insurance of ownership Mexico shelter service operators provide.
Long-Term Stability
Another one of the most notable advantages of nearshoring to Mexico under the IMMEX program is stability. The IMMEX program hasn't changed in structure since it first began. There have been a few adjustments over time as new administrations have come in, but working with a shelter helps companies easily adjust to any changes so operations aren't disrupted.
Additionally, security requirements when the program first launched weren't as strict as they are today. Currently, avoiding the VAT only applies once approved for both the IMMEX program and the Value-Added Tax or VAT Certification. Fortunately, IVEMSA has both of these requirements in place from day one for those that work under the shelter, which provides significant time and cost savings.
If a manufacturer decides to start their own entity, their application process may be delayed, depending on the type of materials being imported. For example, a medical device manufacturer may have certain materials that may have to undergo a larger or more expensive process. IVEMSA can review products and advise if the shelter option is the most favorable route to go.
Consumer Confidence
The IMMEX program has allowed global manufacturing brands to expand their operations. The aerospace industry in Mexico has seen 17.2 percent annual growth over the past decade, with companies like GKN Aerospace, Honeywell, and Gulfstream continuing their investments.
Automotive brands, such as GM, Toyota, and Volkswagen, have also secured and increased their production lines in Mexico over the years as new products and innovations have been introduced to the market. These are a few of the wide range of examples of industries and companies that have benefited from the IMMEX program.
Furthermore, IVEMSA has been providing customized manufacturing solutions and building long-lasting client relationships since 1982. Having a history of success helps minimize the risk and maximize the reward for manufacturers unfamiliar with nearshoring to Mexico. This is especially relevant as ongoing trade conflicts between the U.S. and China have caused manufacturers to reconsider their operating strategies and relocate closer to home.
Streamline Your Operational Setup with Shelter Services
The IMMEX program is of great value to U.S. manufacturers, but operations are made even easier through a shelter service provider. They are already established and ready to go with the proper certifications and compliance protocols in place. Manufacturers can focus on their day-to-day, while IVEMSA gets everything secured for setup, including leasing your facility, hiring and paying your employees, and obtaining all necessary permits and licenses.
Want to learn more about the benefits of the IMMEX program and how IVEMSA can help you? Contact us today for a free consultation.
Sources:
https://www.tshaonline.org/handbook/entries/maquiladoras
https://www.encyclopedia.com/history/encyclopedias-almanacs-transcripts-and-maps/maquiladoras-established