The Rise of Aerospace Manufacturing in Mexico
10.04.20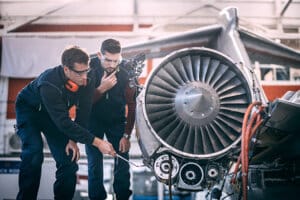 Aerospace manufacturing in Mexico has been one of the key industries of growth over the past several years. According to the Mexican Aerospace Industry Federation, this sector has been responsible for an average of 14 percent export growth year over year from 2004-2019, a creation of approximately 63,000 jobs, and billions of dollars in foreign direct investment (FDI).
FDI has been a key part of the rise of aerospace manufacturing in Mexico with the U.S. being the largest source of investment in Mexico, increasing its total from $37.2 billion in 1999 to $114.9 billion in 2018, per a report published by the Federation of American Scientists. Aerospace products maintained $4.3 billion of the total FDI in 2019.
This is due primarily to global companies moving operations to Mexico to develop engineering centers and production lines. Some of the most represented aerospace companies that have expanded their operations footprint in Mexico most recently are: Honeywell, Collins Aerospace, Safran, Gulfstream, Triumph, and GKN Aerospace, among others.
Of the five main aerospace manufacturing hubs, Baja California is the largest with the presence of companies including GKN Aerospace, LMI Aerospace, Gulfstream, Triumph, and Collins Aerospace. Currently, this region alone maintains 110 aerospace firms and supports more than 35,000 jobs as the numbers continue to grow. However, Queretaro, Sonora, Nuevo Leon, and Chihuahua continue to uphold a strong manufacturing presence as well.
Why Manufacturing in Mexico Remains a Preferred Option
Overall, Mexico's aerospace manufacturing industry has grown 17.2 percent on an annual basis for the past nine years. We can expect that it will continue to perform well and draw in foreign interests and investments. One of the main reasons Mexico has become such a competitive force is its highly-skilled, well-trained, and cost-effective labor pool.
Second, proximity plays a crucial role. By being so close to the U.S., manufacturers are better able to manage production timelines, shipping costs, and quality assurance compared to setting up operations to other foreign countries like China. Third, favorable trade relations through NAFTA (and now with the USMCA) have led to long-term business relationships across North America and continuing expansion for top U.S. manufacturers. With the ongoing trade conflicts between the U.S. and China, American manufacturers are considering options closer to home.
Finally, aerospace manufacturing in Mexico has improved and evolved its manufacturing capabilities throughout the years. What started as a production of components, harnesses, and other small parts has evolved into the manufacturing of flight control assemblies, airframes, and flight surfaces. Mexico also has Bilateral Aviation Safety Agreements with more than 40 countries, which helps to streamline the import/export process.
Aerospace manufacturing is only one of many industrial sectors that has seen growing success as companies decide to expand or diversify their portfolios and set up manufacturing in Mexico. To learn more about the growth projections within the aerospace manufacturing sector and the benefits of working with Mexico shelter companies, contact IVEMSA today.
Sources:
https://www.trade.gov/knowledge-product/mexico-b-aerospace; https://www.poandpo.com/companies/rkern-invests-9-million-to-build-aerospace-components-in-baja-california-2132018359/; https://www.trade.gov/knowledge-product/mexico-b-aerospace; https://www.gbreports.com/wp-content/uploads/2016/04/Mexico-Aerospace-2016-Book-Preview.pdf; https://www.statista.com/statistics/711864/mexico-value-aerospace-industry-exports/; https://fas.org/sgp/crs/row/RL32934.pdf;