Exploring the Value of Reshoring Manufacturing to Mexico
03.10.21
The trend of reshoring manufacturing to Mexico is a strategy U.S. companies are considering as a way to stabilize their supply chains and protect future manufacturing investments and opportunities. According to a 2020 survey of professionals in the industrial sector, 64 percent say they are likely to bring their production back to North America.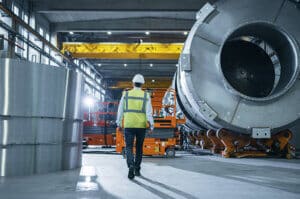 Although Mexico manufacturing is not a new concept, it's drawing the attention of a growing number of businesses, due to the uncertainty that lingers regarding trade security between the U.S. and China. Furthermore, challenges resulting from the coronavirus pandemic have also been a contributing factor regarding increased reshoring production. Shipping delays and trade restrictions, in addition to travel and health safety issues in China have caused disruption and feelings of instability.
Manufacturers had already been considering the inherent benefits of reshoring manufacturing to Mexico or at least, diversifying their portfolios in order to maximize gains. However, the significant and abrupt changes in 2020 have led many to speed up the decision-making process as they move their strategies forward.
Benefiting from the Resiliency and Reliability of Mexico Manufacturing
Despite the volatility of trade relations between the U.S. and China, and the general economic ebb and flow over the past few years, Mexico has remained resilient as a favorable long-term solution for foreign manufacturers. There are several advantages of operating in Mexico,  such as favorable U.S. trade relations and optimal cost-effectiveness.
With regards to trade, provisions under the USMCA focus on the value of product origination in North America. This favors manufacturing in Mexico versus operating in China or other overseas locations. These rules and regulations also help secure intellectual property, which has been notoriously problematic for U.S. manufacturers with facilities in Asia. Although, even prior to the USMCA enforcement, many were already considering moving operations due to Mexico's competitive workforce.
Among the many benefits of setting up operations in Mexico, foreign manufacturers can rely on a technically-skilled, stable workforce at a more cost-effective rate. Labor costs in China have continued to outpace wages in Mexico over the past several years. This combined with China's higher transportation and shipping costs and lengthier timelines have made it appear increasingly practical to move production to Mexico.
Creating a Smoother Transition with a Shelter Company
Many global manufacturing companies have successfully operated in Mexico for decades and have optimized their investments over time. For those newer to the Mexico manufacturing landscape, working with a shelter company is the most efficient and cost-effective way to get a new operation up and running. Choosing this production route minimizes risk while allowing manufacturers to maintain complete operational control.
Manufacturers can operate under a shelter's existing entity and utilize the certifications and permits already in place, which creates a smoother transition and faster startup time. There is also a comprehensive list of shelter services involved, which can be customized based on each company's unique needs. These include site selection, HR and recruiting, tax, legal, and customs compliance, as well as other administrative responsibilities.
As manufacturing strategies continue to evolve, understanding the variety of options and expertise available is important. For more information about manufacturing in Mexico and the value of working with a shelter company, contact IVEMSA today for a free consultation.
Source:
https://business.thomasnet.com/press-room/news-highlights/supply-chain-dive-mfg-reshoring-is-likely