Why Nearshoring to Mexico Is Beneficial Now More Than Ever
12.22.20
There was no shortage of changes to the economy in 2020 due to the coronavirus pandemic. Months after the sudden halt to production and supply chains in March, it now seems there's been a shift forward with momentum bound to pick up going into Q1 and Q2 of 2021. With vaccine approvals and a tentative timeline in place as the U.S. becomes fully functional again, preparing for the growth and eventual surge of manufacturing needs is crucial.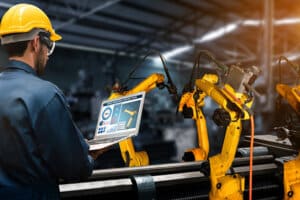 Global industries, from automotive to aerospace and electronics to medical devices, have profited from nearshore services for decades. It's been an effective way of benefiting from Mexico's highly-skilled, cost-effective workforce, in addition to other advantages, such as the close proximity to the U.S. and favorable trade relations between the two countries, among others.
However, as part of today's current climate, this operational strategy is beneficial now more than ever due to the:
Expansion capabilities nearshoring allows manufacturers
Open travel across the border despite Covid-19 restrictions in other areas
Reinforcement of manufacturing as a critical workforce infrastructure
These factors in addition to what manufacturers have relied on for years as part of their business strategies will grant Mexico the competitive edge over China regarding trade relations going forward.
Expansion of New Product Lines for Established Manufacturers
The demand for products may soon begin to soar as industrial sectors resume operations and try to make up for losses in 2020. For example, when the pandemic hit, airline travel ceased operations for the greater part of the year. Heading into 2021, airlines have already begun to slowly open up their seating capacity and extend their flight routes. As a result, aerospace stock also began to shift back to normal around Thanksgiving.
Some projections point to travel being in full swing by the summer of next year, and aircraft manufacturing is already climbing its way back on track. After a temporary hold on production of the 737 Max, Boeing resumed services in late May 2020. Boeing is one of many global aerospace companies that has been working with suppliers in Mexico for years, spending up to $1 billion USD per year in Mexico.
Additionally, California is expected to require all new passenger vehicles sold in the state to be zero-emission by 2035, which leads the way for new production on electric vehicles. As other states follow suit with similar policies providing electric vehicle incentives, it'll revolutionize the automotive industry. Ford Motor Co. has already focused efforts on creating an electric version of the F-150 pickup and a battery-powered model of the classic Mustang, the Mustang Mach-E, in Cuautitlan, Mexico. It, too, has held a longstanding relationship with Mexico in terms of labor and production.
These are only two examples that show how manufacturers plan to meet product demand and industry changes scheduled for the near future. Manufacturers already established in Mexico have the advantage of experience and historical success on their side, while others find ways to remain competitive by considering expansion south of the border for the first time.
Read more: The history of American companies manufacturing in Mexico.
Open Travel Creates Clear Path for Site Visits
Mexico has become China's top competitor with regards to international trade relations with the U.S., offering benefits China simply doesn't have. In addition to labor and expansion benefits, the advantages of nearshoring to Mexico include its close proximity, which has proven helpful during the pandemic. The U.S. and Mexico have kept travel across the border open to essential commerce and essential trade/travel since March 21, 2020.
As progress continues into the new year, it'll be safer and easier for manufacturers to schedule site visits and oversee in-person operations as necessary. Conversely, restrictions on travel to China are still in effect. The Centers for Disease Control and Prevention Level 3 notice suspends most foreign entry into the region and may impose exit bans for U.S. citizens attempting to depart. It makes opening up new facilities and performing quality assurance on the current ones more challenging.
Read more: Why companies are reshoring to North America.
Critical Workforce Infrastructure and Agreed-Upon Trade Guidelines
The U.S. Cybersecurity & Infrastructure Security Agency lists 16 essential sectors critical to workforce infrastructure. On the list is the Critical Manufacturing Sector, including machinery manufacturing, electrical equipment, and transportation equipment, three of the major manufacturing categories active in Mexico. In response to the Covid-19 pandemic, products that fall into these categories have been deemed essential, and the focus on prioritization and protection of these industries have been labeled a vital national security priority to the U.S.
Additionally, the U.S. and Mexico (along with Canada) entered into the recently enforced USMCA, which outlines trade protections and benefits among the three countries. Meanwhile, the trade war conflict between the U.S. and China continues with uncertainty regarding tariffs and no clear resolution in sight. This combined with the travel restrictions enforced between the two countries makes China less of a viable option when compared to the advantages of nearshoring to Mexico.
Lastly, manufacturers also have the advantage of working with Mexico shelter services to set up new and/or grow established operations in a timely, efficient, and cost-effective way. As the trade relationship between the U.S. and Mexico strengthens and new benefits are highlighted even as the economy shifts, manufacturers will want to consider nearshore services as part of their ongoing business strategy.
For information about nearshoring to Mexico and how our shelter company can help your company grow and succeed, contact IVEMSA today.
Sources:
https://www.bloomberg.com/news/articles/2020-11-10/ford-accelerates-electric-vehicle-manufacturing-in-u-s-mexico
https://www.cisa.gov/critical-infrastructure-sectors
https://www.cnbc.com/2020/05/27/boeing-resumes-production-of-beleaguered-737-max.html
https://www.boeing.com/resources/boeingdotcom/company/key_orgs/boeing-international/pdf/mexico_backgrounder.pdf
https://www.dhs.gov/news/2020/10/19/fact-sheet-dhs-measures-border-limit-further-spread-coronavirus
https://travel.state.gov/content/travel/en/traveladvisories/traveladvisories/china-travel-advisory.html