5 Reasons Mexico Manufacturing Remains a Key Strategy in 2022
02.25.22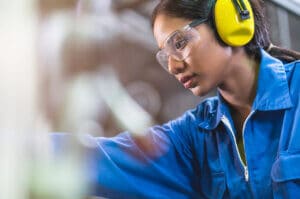 For decades, Mexico manufacturing has been viewed as a strategic advantage for U.S. companies that want to operate closer to home. Though, in recent years, there's been a significant shift from manufacturing in China to nearshoring to Mexico as a key strategy.
With a history of industrial success due to built-in benefits unavailable overseas, this move is highly advantageous for several reasons. From infrastructure to the IMMEX maquiladora program, here are five areas companies can benefit from most when manufacturing in Mexico.
1.   Dependable Infrastructure
Due to Mexico's extensive history in manufacturing, there are stable networks in place that extend throughout the country as well as into the U.S. Global companies with established operations have continued their investment over the years as their respective industries have grown and evolved. The U.S. is the highest source of foreign direct investment (FDI) into Mexico, totaling $5.04 billion USD or 42.5% of the FDI total in 2021, a majority of which funnels through the industrial sector.
With operating activity in an array of specialized industries, there's also a strong supply chain to count on in Mexico, which has been one of the greatest advantages in recent years. Whereas, China has experienced delays, a weakened supply chain, and other challenges that have negatively impacted production. Manufacturers want a strategy with built-in stability to help protect the future of their operations. The benefit of a dependable infrastructure puts the spotlight on Mexico manufacturing as the most viable option.
2.   Free Trade Agreements
Mexico is part of 13 free trade agreements with 50 countries. This includes the USMCA, which has strengthened the trade relationship between the U.S., Mexico, and Canada. The updated provisions eliminate barriers to trade among these three countries and deliver new incentives for U.S. manufacturers operating in Mexico. In comparison, the U.S. trade war with China has resulted in retaliatory tariffs that hindered the exchange between the two countries and caused manufacturers to reconsider their sole reliance on China for production.
Furthermore, the USMCA implements robust intellectual property (IP) laws and regulations with enforced penalties for those in violation. In today's modern world, where new patents continually enter the market, IP protection is crucial among global companies and has been a notorious source of contention between the U.S. and China in the past.
3.   Strategic Location
Inflation has led to rising costs in nearly all areas of operation, which makes the cost-savings benefits of manufacturing in Mexico an even greater strategic advantage. For U.S. manufacturers, specifically, the close proximity between the U.S. and Mexico cuts down dramatically on transportation costs and delivery timelines.
Currently, a shipment from China to the U.S. costs upwards of $10K to $15K and takes several weeks to arrive. Alternatively, finished goods can often reach their U.S. destination from Mexico on the same day for a few hundred dollars. Furthermore, quality assurance oversight is easier to maintain with the shorter travel distance between the two countries versus a U.S. manufacturer scheduling a factory visit in Asia.
4.   Skilled Workforce
Another main reason why U.S. companies are turning to Mexico manufacturing in 2022 is the scarcity of the industrial workforce in the U.S. and China. Many companies have struggled to find reliable, industrially skilled employees to carry out operations. The exodus of industrial workers has been provoked by a combination of those seeking other employment opportunities and the retirement of industrial workers who have served in the manufacturing sector for decades.
In addition, both the U.S. and China have also experienced increases in the minimum wage, making the cost-effectiveness less enticing than foreign manufacturers recruiting employees in Mexico. Mexico continues to invest in the education and training of its industrial workers and has developed a highly competitive workforce in accordance with cost-effective labor rates. For example, the hourly rate for a skilled operator in Mexico is $5.31 versus the $15 minimum wage in the U.S.
5.   The Shelter Setup and IMMEX Program
Lastly, two unique benefits of Mexico manufacturing are the shelter setup and the IMMEX program, which work together hand-in-hand. A shelter reduces the risk and liability for foreign manufacturers operating in Mexico by serving as their legal entity. A shelter company also takes care of all administrative tasks necessary to set up operations. It allows companies to get up and running in as little as three to four months, compared to six or seven months as a standalone entity. Meanwhile, companies maintain complete control of production and ownership of goods, equipment, and materials.
Working under a shelter also grants foreign companies benefits as part of the IMMEX maquiladora program. The IMMEX maquiladora program allows foreign manufacturers to temporarily import manufacturing materials and exempt them from the 16% VAT, as long as the finished goods are exported within the established timeframe.
This cost-savings benefit begins from the first day of operations when working with a shelter, as all necessary certifications and permits are already in place. However, for U.S. and other foreign companies establishing their own standalone entity, the application and approval process can take months, and all materials and equipment will be taxed accordingly.
U.S. and other foreign manufacturers have benefited from Mexico manufacturing for years, and it's a strategy that still holds steady today. IVEMSA has successfully helped manufacturers set up their operations since 1982 and maintains a 15-year average customer retention rate.
Want to learn more about the benefits of working with a shelter? Let's discuss how we can help your company. Contact us today.
Source:
https://mexico-now.com/prospects-for-foreign-direct-investment-in-mexico-2021/