3 Emerging Trends Among Mexico's Industrial Workforce
03.11.21
For decades, Mexico has invested in technical education and specialized training programs to match highly-skilled job seekers with U.S. manufacturers and other foreign investors operating in Mexico. Over 110,000 engineering graduates enter the workforce in Mexico every year, making the recruiting and hiring process a crucial part of the operational setup.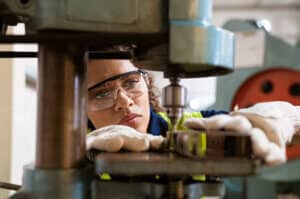 With such a stable and established labor force, it's important to identify and track key trends in order for manufacturers to stay competitive. Current emerging trends among Mexico's industrial workforce include a rising labor force participation rate, new job growth opportunities per the USMCA, and increased competitiveness when recruiting and retaining the best employees when manufacturing in Mexico.
Rising Participation Rate of Mexico's Labor Force
Historically, Mexico has scored relatively well in employment resiliency when compared to other countries, as per data collected by the Organization for Economic Co-Operation and Development (OECD). Though higher rates of unemployment plagued North America in 2020, due to the coronavirus pandemic, data shows Mexico's labor force held steady.
In April 2020, the labor force participation rate dipped to 47.5 percent but began to climb to more regular numbers, reaching a high in October 2020 of 57.4 percent. Forecasts show this percentage continuing to trend upward with a forecast of 61.47 percent through 2021, which makes it comparable to the current labor force rate in the U.S. Furthermore, the median age in Mexico is 29, nearly a decade younger than the average age of the U.S. and China population, which lends a sense of workforce stability for Mexico manufacturing.
New Job Growth Opportunity Per the USMCA
Mexico's labor force also holds an advantage over other foreign supply chains, including China, due to the official enforcement of the USMCA. Ongoing favorable trade relations between the U.S. and Mexico is one of the significant factors incentivizing U.S. manufacturers to move operations closer to home.
For example, one of the key achievements of the new rules of origin and origins procedures under the USMCA requires 75 percent of auto content be made in North America. This will be a key growth factor among Mexico's labor force, which has already risen significantly over the past several years. The vehicle manufacturing sector, specifically, has grown from approximately 65,000 laborers in 2013 and reaching over 100,000 in 2019. As of March 2020, the number of employees in Mexico in this sector amounted to 99,781, compared to 100,174 employees reported in the same month a year earlier.
This data excludes the number of workers in the auto parts sector as well as in the segments of unassembled vehicles and trailers. As more manufacturers continue to expand or shift operations from China to Mexico, new job opportunities will make Mexico's workforce increasingly competitive across all sectors and regions.
Competitiveness in Employee Recruitment and Retention
As the growth trend continues with the high level of technical talent available in Mexico, it's important for U.S. manufacturers to know how to effectively recruit and retain the best employees. This can help save on time and costs when establishing a new operation and sustaining the success of a current one.
Working with a shelter company provides valuable insight into connecting qualified employees with manufacturers based on work experience and skills needed, availability in the chosen region of operation, and cultural expectations with regards to employee benefits. Part of the full suite of shelter services includes recruiting and HR responsibilities, as well as guidance in maintaining high employee retention.
As manufacturers consider their options, navigating the labor force and job growth opportunity trends in Mexico helps plan for future projects. To learn more about the advantages of manufacturing in Mexico, contact IVEMSA today.
Sources:
https://tradingeconomics.com/mexico/labor-force-participation-rate
https://www.worldometers.info/world-population/mexico-population/
https://www.statista.com/statistics/241494/median-age-of-the-us-population/
https://ustr.gov/trade-agreements/free-trade-agreements/united-states-mexico-canada-agreement/fact-sheets/rebalancing
https://www.statista.com/statistics/892283/mexico-automotovie-industry-employment/