Mexico: Helping to Answer America's Labor Shortage
01.23.23
Mexico shelter manufacturing has maintained significance for foreign operators since the IMMEX maquiladora program started back in the mid-1960s. What began as basic, yet highly labor-intensive production has evolved into high-tech operations, such as CNC machining for aerospace, medical expansion with electronics and hospital equipment, and the formation of R&D centers in Mexico for global leaders like Ford and Honeywell.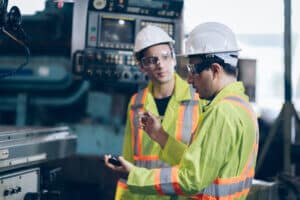 Fulfilling the sophisticated needs of these sectors requires a workforce familiar with operating in a manufacturing environment. Fortunately, Mexico fully invests in developing its industrial talent through advanced education and skills training. Universities work with manufacturers to donate equipment and create curricula. They are also immersed and connected with technical training centers and trade school programs, which gives manufacturers an opportunity to recruit top talent.
Since Mexico manufacturing represents a huge percentage of the GDP of Mexico, more than tourism and e-commerce, the labor demand is high but so is the availability. This serves as a notable advantage at a time when many economies, including the U.S., are experiencing a technical labor shortage.
Meanwhile, Mexico's industrial workforce continues to thrive.
Labor Availability Among Young Workers
The U.S. is struggling with a labor shortage due to an entire generation entering retirement without younger generations willing to take on similar roles. The average age of an employed industrial worker in the U.S. is 38 years old compared to 28 years old in Mexico. Plus, American workers seek employment in other industries where remote work environments and schedule flexibility are available.
Whereas, Mexico boasts a younger demographic of workers who are better able to engage in many of the labor-intensive responsibilities required. And with the impact of manufacturing in Mexico, they are drawn in by the security of these roles and the potential growth opportunities within their chosen companies.
Read more: Why manufacturers consider nearshoring to Mexico a competitive advantage.
Cost Savings with a 48-Hour Work Week
In addition to labor availability, foreign manufacturers experience significant cost savings regarding labor rates in Mexico as well. Mexico follows a 48-hour work week compared to 40 hours per week in the U.S. The direct labor cost hourly rate in Mexico for a manufacturing operator is approximately $5.30 fully-burdened, compared to $23 per hour in the U.S. also within a manufacturing environment.
Therefore, for a headcount of 100 people, the yearly labor cost in Mexico equals $1,322,880 compared to the U.S. total of $4,784,000. This results in an impactful savings of $3,461,120.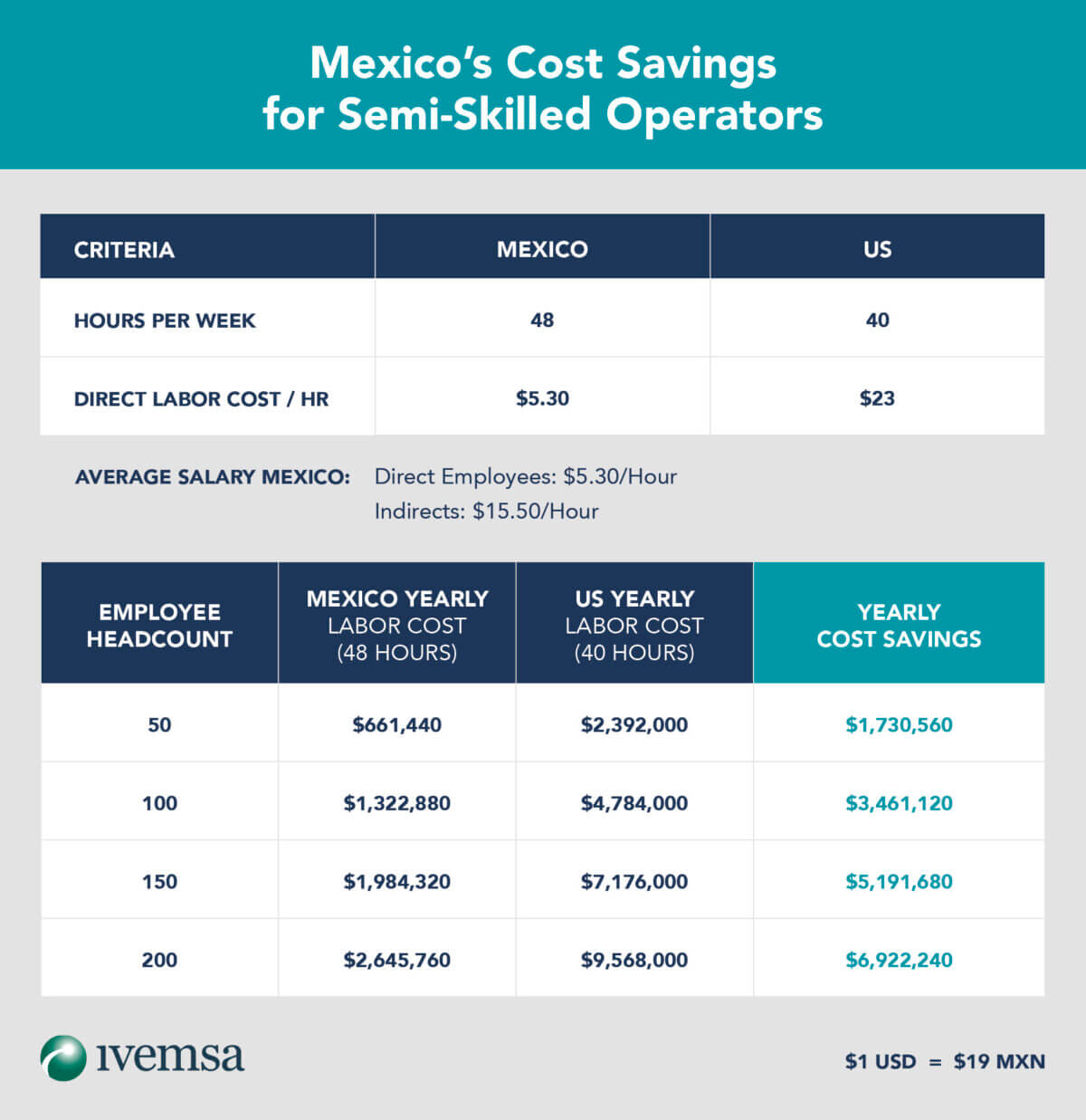 Shelter Services to Support Recruiting Efforts
Furthermore, working with a shelter company provides additional savings in all areas of administrative responsibilities necessary for manufacturing. Shelter services include recruiting, hiring, and payroll, as well as legal, trade compliance, and accounting assistance. Rather than hire each of these departments individually, a shelter provides an all-inclusive way to support manufacturers in their production.
Read more: Top sectors taking advantage of manufacturing in Mexico.
The shelter handles all administrative tasks while companies maintain complete control over their operations, equipment, and processes. Plus, a shelter offers the flexibility for manufacturers to scale up or down as needed for a completely tailored solution.
Mexico shelter manufacturing isn't a new concept, though it's one more companies are considering to answer the labor shortage in America. The close proximity between the U.S. and Mexico makes the shift easier and working with a shelter company like IVEMSA helps to make a seamless transition.
Shelter vs standalone for Mexico manufacturing >>
To learn more about how IVEMSA's shelter services can help your company reach its production goals, contact our team today.
Sources:
https://www.statista.com/statistics/1331500/employment-age-group-mexico/
https://www.zippia.com/factory-worker-jobs/demographics/