Top Sectors Taking Advantage of Manufacturing in Mexico
10.25.22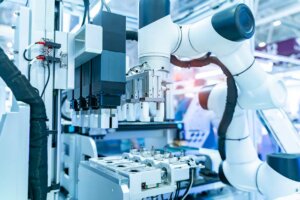 Manufacturing in Mexico has been a significant global strategy for the past several decades. However, recent shifts in the economy have resulted in a spike in growth, particularly due to manufacturers moving their operations from China to Mexico. The effects of the COVID-19 pandemic illustrated how fragile a sole reliance on trade in China has become. Additionally, with the increase in production levels and costs, the advantages of trade with China are no longer as alluring as they once were.
Instead, U.S. manufacturers are reaping the benefits of nearshoring to Mexico, such as the close proximity, lower cost of labor, and secure supply chains. The main sectors increasing their presence include:
Automotive
The automotive sector is already one of the most significant industries in Mexico. It makes up more than 3.5% of the nation's GDP. Also, 90% of vehicles produced in Mexico are exported; 76% to the U.S. The country has been a leading supplier of automotive parts and components on a global scale and maintains maquiladoras for Volkswagen, Audi, Toyota, Nissan, Ford, Mercedes-Benz, and Kia, among others.
In addition, the United States-Mexico-Canada Agreement (USMCA) states that 75% of automotive content must originate in North America. This further solidifies a favorable trade relationship between the U.S. and Mexico in this sector. Most production takes place along the northern border of Mexico in Monterrey, Ciudad Juárez, and Hermosillo. However, expansion to other regions of the country, including Jalisco, Queretaro, Puebla, and Merida is on the rise. Though not as heavily saturated as the border region, these areas have the infrastructure, labor, and transportation in place to continue expanding at a steady rate.
Aerospace
Aerospace is also a significant sector in Mexico with industrial clusters already established in Baja California, Sonora, Nuevo Leon, Queretaro, and Chihuahua. Each area has its own specialization and a strong supply chain. Total exports from Mexico to the U.S. equal an estimated $4 billion USD as of 2022. This represents purchases for aviation and military-related products, specifically, and does not include the additional foreign direct investment for airport construction products and services.
The USMCA has also encouraged development in this sector due to enhancements in intellectual property protections. The agreement assures transparency and patent protection for technological innovations through regulatory measures. This level of security has been a challenge for U.S. manufacturers operating in China in the past, causing many to move their production to Mexico as a result.
Medical Devices
Medical devices and supplies are one of the leading sub-sectors in Mexico's overall healthcare sector. In 2021, $5.9 billion was imported to Mexico in this category and continues to represent a growing market. Baja California, in particular, has been an ideal location for companies like Masimo, Medtronic, and Becton Dickinson, among others. The close proximity of the northern border of Mexico supports quick turnaround times for delivery to central markets.
Electronics
There's been a recent shift of semiconductor production to Mexico. In September 2022, the U.S. authorized approximately $50 billion USD for a semiconductor program to incentivize Mexico to join forces as a global epicenter for the electronics industry. Mexico is already one of the world's leaders in global exports of electrical and electronic equipment, topping $87 billion USD in 2021.
Baja California, Coahuila, Ciudad Juárez, Chihuahua, Monterrey, and Nuevo León are the main hubs for the electronics sector. As Mexico continues to develop new facilities throughout the country beyond the northern border region, it represents even more opportunities for manufacturing in Mexico.
Why Work with IVEMSA
Operating in a foreign country requires regulatory guidance and administrative assistance to launch production quickly and efficiently. The majority of manufacturers choose to work with a shelter company to reduce risk and liability and create a more seamless transition.
IVEMSA provides comprehensive shelter services to guide manufacturers through every step of the process. Let us help you reach your business goals. Contact us today.
Sources:
https://www.trade.gov/country-commercial-guides/mexico-automotive-industry
https://www.trade.gov/country-commercial-guides/mexico-aerospace
https://www.trade.gov/country-commercial-guides/mexico-healthcare-products-services
https://mexiconewsdaily.com/news/us-encourages-mexico-semiconductor-industry/
https://tradingeconomics.com/mexico/exports/electrical-electronic-equipment