Intro to Ally-Shoring: The New Strategy Strengthening the U.S. Economy
05.10.21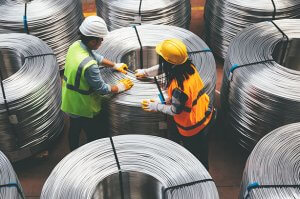 After decades of reliance on trade with China, primarily as a source of low-cost labor for U.S. manufacturing operations, the COVID-19 pandemic has been a strong push of motivation causing companies to rethink their strategies going forward. With the halt on supply chains and international travel, in addition to the ongoing trade conflicts between the U.S. and China, it's resulted in the development of ally-shoring.
In essence, ally-shoring is exactly how it sounds, a program of sourcing services, goods, and materials with allies, while disengaging from trade relations with China and other countries that don't favor American interests. While many have already prospered from manufacturing in Mexico, many other U.S. manufacturers are also bringing their operations closer to home.
Ally-shoring makes sense both from a logistical and fiscal standpoint while adhering to new protocols set forth by the USMCA. This free trade agreement between the U.S., Mexico, and Canada focuses on strengthening regional supply chains across several industries, with particular emphasis on automotive.
USMCA provisions include increased domestic content, enhanced IP protection, and improved U.S. patents in Mexico. These changes strengthen the business relationship between the two countries and incentivize new investments being made in Mexico.
Read more: Mexico vs China Manufacturing
Yielding the Benefits of Ally-Shoring
In a case for ally-shoring presented by the U.S. – Mexico Foundation, it states several goals and mutual economic benefits between the countries, including:
Decreased reliance outside of the region for critical supplies
Enhanced institutions and job growth through co-developing and manufacturing new products, services, and technologies
Integrated industrial policies that help build critical infrastructure
Ally-shoring yields additional benefits, such as predictability, cost-effectiveness, and transparency, all areas of concern for foreign companies wanting to expand their operations. When it comes to predictability, Mexico has been a top trading partner with the U.S. over the past few decades. The country has proven to be a reliable economic partner, thanks to a strong supply chain, favorable geographical positioning, and experience in advanced manufacturing for everything from automotive to aerospace and medical devices to electronics.
Secondly, Mexico's cost-effectiveness is competitive with China, and has recently emerged as a more cost-effective option over recent years. Mexico offers U.S. manufacturers lower labor wages for higher-skilled employees who work longer workweeks.
Additionally, ally-shoring with Mexico provides a higher sense of transparency than operations in China or other foreign countries. Manufacturing in Mexico is more easily monitored than in many other countries and follows the same provisions set forth by the USMCA with regards to intellectual property and trademarks.
Ally-shoring as a strategy is made easier when partnering with a shelter services operation. The shelter setup is unique to Mexico and provides U.S. and other foreign manufacturers a way to ramp up operations within a few months with reduced legal and financial risk. All administrative responsibilities are taken care of, including HR and accounting, legal and trade compliance, among others, to free up time and resources for manufacturers to focus on production.
As ally-shoring continues to gain in popularity, IVEMSA is here to help companies succeed when manufacturing in Mexico. For more information about this strategy and how to get started, contact us today.
Sources:
https://thehill.com/opinion/finance/515405-ally-shoring-will-help-us-rebuild-economy-and-global-leadership
https://usmexicofound.org/images/programas/documentos/1614490856AllyShoring.pdf