Exploring the Cost-Saving Solution of Moving E-Commerce Fulfillment Centers to Mexico
04.14.20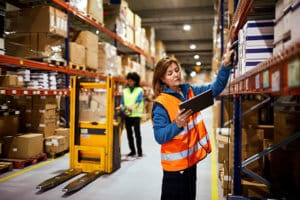 With the majority of people needing and wanting goods delivered straight to their door for convenience, health, and safety purposes, it's important to ensure there are no disruptions in quality or service for e-commerce fulfillment centers. It's also essential that they're prepared to meet the rising demand, especially among the current state of affairs and the rippling effects it will have. Fortunately, there is a cost-saving solution for companies when it comes to logistics.
U.S. businesses can benefit from shifting their logistics solutions to Mexico by taking advantage of the Section 321 Program and working with established supply chain models available through both our Mexico shelter company IVEMSA and our sister 3PL solutions company, Iron Logistics. Global organizations have benefited for decades from Mexico's cost-effective and highly skilled workforce, proximity to the U.S., which helps to save on shipping, and tax advantages through trade deals like the updated USMCA.
By choosing from these options, it allows manufacturers, logistics and fulfillment companies to effectively manage the flow of their shipments while maintaining operational flexibility and quality assurance during this extreme time and better prepare them for the future.
321 Program Basics: How Companies Benefit
The benefit of Section 321 is that U.S. companies can bring in finished goods from China (or other countries) to Mexico and then ship them to the U.S. This is available when products have a retail sales value of $800 or less. These products then are free of duty and tax when "imported by one person on one day" to the U.S.
Commodities such as electronics, furniture, and luxury and high-end products are of the highest demand. Essentially, most products not considered sensitive material can be approved through this program. Through Section 321, manufacturers or fulfillment companies must provide documentation of what's referred to as the "release from manifest." This includes:
Country of origin of merchandise
Shipper name, address, and country
Ultimate consignee name and address
Specific description of the merchandise
Shipping weight and value
Taking advantage of e-commerce fulfillment services in Mexico near the U.S./Mexico border leads to lower warehouse and labor costs when compared to shipping finished products to e-commerce fulfillment centers in the U.S. and companies can still maintain the same level of service through on-time delivery and shipment accuracy.
Options for Operational Setup
There are two e-commerce fulfillment center solutions U.S. companies can choose from when moving their warehousing operations to Mexico. They can either work directly with a logistics company or through a shelter services provider to make sure products are being delivered without delay.
Working Directly with Our Logistics Company
The advantage of working directly with our logistics company is that Iron Logistics already has the warehouses, equipment, permits, and workforce available to build a customized solution for a company's inventory and shipping needs. It is a cost-effective, efficient solution for medium- to high-volume manufacturers that want to steadily meet demand.
Among the services offered through this option are warehousing, light assembly, packing, and shipping available all in one place. This helps to manage the flow of business during this time of crisis and surge in online shipments and beyond. Companies can put their confidence in Iron Logistics' history of excellence and customer satisfaction with inventory accuracy, fill rates, and on-time delivery.
Partnering with Our Shelter Services Provider
An alternative option is working through our Mexico shelter company. This allows companies to save time on securing an IMMEX maquiladora license, permits, and creating operational departments needed to get up and running. This includes legal, accounting, HR, and customs compliance services, all which are coordinated to work simultaneously together.
For U.S. manufacturers that want to set up their own fulfillment center as a standalone entity, it takes additional time to secure everything required to get started. Right now it's challenging for new entities to apply for obtaining a new IMMEX maquiladora license. However, if companies decide to go this route, IVEMSA can serve as a hands-on consultant to help streamline the process as much as possible.
Each of these options give companies the ability to pivot their business models and set up additional fulfillment centers as needed, especially now when online, no-contact delivery is preferable, if not mandated. This model will continue to be popular in the future as more people turn to online shopping primarily rather than visiting physical brick-and-mortar stores since it makes the user experience more convenient and less intrusive.
Whether you decide to work directly with a logistics provider or benefit from Mexico shelter services when establishing a new fulfillment center to Mexico, these options can be customized to fit your company's specific needs, timelines, and goals.
To learn more about your logistics options, contact IVEMSA today.
Sources: https://www.dhs.gov/sites/default/files/publications/privacy-pia-cbp-section321-059-september2019.pdf; https://www.govinfo.gov/content/pkg/FR-2019-12-09/pdf/2019-26445.pdf;