Three Main Highlights of the United States-Mexico-Canada (USMCA) Trade Agreement
01.13.20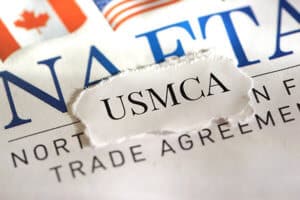 Talks about ratifying the USMCA trade agreement have been ongoing for over a year. As of December 2019, all three countries have signed the agreement and issued a revised version, which is expected to be enacted this year. While specifics are still being finalized, including changes to labor standards, there will be a greater understanding about the impact of the updated trade deal once the timeline is established.
Once officially passed, there will be time allowed to adjust to the new requirements (an earlier version of the agreement indicated a three-year rollout), after which all parties must fully adhere by the outlined and agreed upon trade policies. From the date the USMCA goes into effect, it's valid for 16 years, although a review is already set for 2026.
Knowing the scope of what is expected to be approved with finality in 2020 helps manufacturers and other businesses better prepare for any changes that may affect them directly. Highlights of the agreement include changes within the categories of labor provisions, intellectual property protection, and automotive production.
#1: Labor Law Reform to Improve Working Conditions and Pay
Provisions included in the USMCA updated text outline several labor rights including:
Freedom of association and the effective recognition of the right to collective bargaining
Elimination of all forms of forced or compulsory labor
Acceptable conditions of work with respect to minimum wages, hours of work, and occupational safety and health
Each country must be in compliance with labor laws through appropriate government action, including, but not limited to:
Appointing and training inspectors
Monitoring and investigating suspected violations, including through unannounced on-site inspections, and giving due consideration to requests to investigate an alleged violation of its labor laws
Initiating, in a timely manner, proceedings to seek appropriate sanctions or remedies for violations of its labor laws
A press released by Labor Federation President Richard Trumka noted, "For the first time, there truly will be enforceable labor standards—including a process that allows for the inspections of factories and facilities that are not living up to their obligations." These updates promote better working conditions and a fair wage for factory workers, which in turn, helps to boost productivity and performance in the workplace.
#2: Modernization of Intellectual Property Rights
Updates to the intellectual property rights of the USCMA focus on areas including internet service providers (ISPs), trademarks, trade secrets, and enforcement as follows:
Establishment of flexibilities to address ISP copyright liability
Extends trademark protection to sounds and "collective marks" and removes administrative request to enable easier trademark protection and enforcement
Requires criminal procedures and penalties for trade secret theft, including cyber theft; clarifies that state-owned enterprises must protect trade secrets
Extends IPR enforcement to the digital environment
Strict and enforceable intellectual property protection is one of the many factors companies consider when exploring Mexico manufacturing solutions. Having these provisions applicable to digital property brings the updates into the modern era.
Read more: An introduction to customs clearance in Mexico.
#3: Boost to Automotive Production in North America
Per the revisions to the USMCA, the percentage of automobiles and automotive component products in North America has increased to 75% and 60%-70% respectively. Additionally, 40% of automobiles must be made in factories that pay labor wages of at least $16/hour. This helps to perpetuate an already competitive workforce in Mexico and further emphasizes the subject of labor law reform.
With rising trade conflicts between the U.S. and China over the past two years, manufacturers have already begun to explore alternatives. Under the provisions set forth by the USMCA, it gives companies an increased incentive to expand or move their operations from China to Mexico. Many of these protections have already been in place as part of NAFTA, but have now been updated and improved under the ratified trade deal.
In addition to being logistically closer and more cost-effective, labor reform, modernization to intellectual property protection, and retaining the majority of automotive production in North American further tips the scales in Mexico's favor.
Want more information about how manufacturing in Mexico can benefit your company? Contact IVEMSA today.
* The information provided in this blog is reflective of the text version of the USMCA dated 12/13/19.
Sources: Office of the United States Trade Representative; PBS; AFL-CIO