Automotive Manufacturing Continues Shift from China to Mexico in Light of COVID-19
09.07.21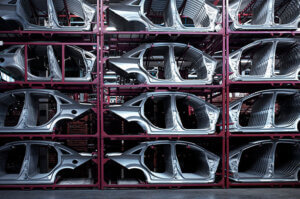 The manufacturing industry is still reeling from the effects of the coronavirus pandemic and the disruption it caused to supply chains all over the world. Although every industry was negatively affected, the automotive industry was one of the hardest hit.
Data from the International Organization of Motor Vehicle Manufacturers reflected a 16 percent decline of global auto production in 2020. Due to the closure of manufacturing facilities in China, specifically, it limited automotive company capabilities of meeting production deadlines without having a backup plan in place.
Nearly 10 percent of vehicles are made in Wuhan, which is considered the "Detroit" of China and also, the epicenter of the pandemic outbreak. The region is home to hundreds of parts suppliers that had production interrupted without a steady return to normal since early 2020. In light of the uncertainty of recovery efforts in Southeast Asia, many U.S. automotive manufacturing companies are transferring production from China to Mexico or expanding their operations to include Mexico as its primary facility.
Mazda, Toyota, and Other Global Automotive Manufacturers Make the Move
The cost-effectiveness and scalability of manufacturing in China has been a strategy for U.S. companies over the past few decades. However, despite China's wage increases and tumultuous trade relations with the U.S. in recent years, it wasn't until the supply chain was brought to a halt that an increasing number of manufacturers decided to quickly shift gears.
After being at an operational standstill for months, the COVID-19 pandemic caused U.S. manufacturing companies to rethink their sole reliance on China and turn their attention closer to home. Although, it's not only U.S. manufacturers making the shift.
For example, a Japanese auto supplier immediately shifted production of parts for Mazda away from China's coastal region of Jiangsu to central Mexico's Guanajuato State. Toyota, Nissan, and other global automotive manufactures also followed suit of moving production to fulfill export orders. This transfer of operations from China to manufacturing in Mexico may have gained momentum due to the pandemic, but were incentivized even further due to the newly enforced provisions of the USMCA, which also went into effect in 2020.
USMCA Requires Majority of Auto Content Be Made in North America
The United States, Mexico, and Canada reached a new trade agreement that supports North American manufacturing and is mutually beneficial for all three countries. Part of the new rules of origin and origin procedures require 75 percent of auto content be made in North America. This incentive is in addition to the convenience and cost-effectiveness of having a more localized supply chain.
Additionally, new procedures under the USMCA help ensure that only producers using sufficient North American parts and materials receive preferential tariff benefits. Though automotive companies have benefited from manufacturing in Mexico for years, the pandemic disruptions being immediately followed by these new trade provisions has continued the shift of automotive production from China.
Fortunately, U.S. and other foreign manufacturers transferring production to Mexico have the option of working with a shelter services company. At IVEMSA, we make the process as streamlined and cost-effective as possible.
Sources:
https://www.oica.net/global-auto-production-in-2020-severely-hit-by-covid-19-crisis-with-a-16-drop-in-world-auto-production/
https://www.reuters.com/article/us-health-coronavirus-autos-parts/as-one-of-chinas-detroits-reopens-worlds-automakers-worry-about-disruptions-idUSKBN20V14J
https://ustr.gov/trade-agreements/free-trade-agreements/united-states-mexico-canada-agreement/fact-sheets/rebalancing