Ally Shoring Is Strengthening Ties Between the U.S. and Mexico
09.30.21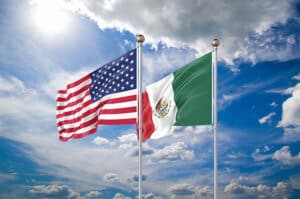 Ally shoring, as defined by the U.S.-Mexico Foundation, is "the process by which countries rework critical supply chains and source essential materials, goods, and services among and between trusted democratic partners and allies, with a focus on investing in the short- and long-term relationships that protect and enhance joint economic and national security."
This term and strategy has recently emerged in the manufacturing industry with the goal of motivating U.S. companies to work solely with trade allies in an attempt to reconfigure and stabilize supply chains. The Covid-19 pandemic resulted in economic shutdowns with supply chains held at a standstill or severely delayed. It became clear how over-reliance on any one country served as a challenge, particularly when that country was on the other side of the world.
Previously, U.S. manufacturers have viewed China as its go-to supply chain due to the low cost of production. This advantage has changed over the years with Chinese labor rates increasing and Mexico's industrial workforce remaining steady at equal or lower competitive costs. In addition to finding a cost-effective solution closer to home, manufacturers also seek a strategy with higher flexibility and less risk involved. For the U.S., ally shoring to Mexico fulfills the needs of what companies are trending toward today.
In addition to its cost-effective labor rates, the U.S. and Mexico are trade allies bonded by the USMCA. It makes logistical and strategic sense to see the shift of more manufacturing companies taking advantage of the benefits nearshoring to Mexico delivers.
Historically Favorable Trade Relations Across All Sectors
The trade partnership between the U.S. and Mexico has held strong for the past several decades and across multiple industrial sectors. Mexico is the sixth largest global passenger vehicle manufacturer, with 88 percent of vehicles produced in Mexico exported to the U.S. With regards to the aerospace sector, Mexico has grown from 100 manufacturing firms in 2004 to 368 by mid-2020, with an estimated 48 percent of foreign direct investment in 2019. Additionally, Mexico is positioning itself as a high-quality software developer to the aerospace, manufacturing, and finance industries with 38 IT clusters throughout the country.
This is a sampling of how the U.S.-Mexico partnership has positively affected trade and the respective local economies. By capitalizing on the infrastructure and trade relations already in place, plus the implementation of the USCMA and the focus on ally shoring, the number of U.S. manufacturers expanding their operations or setting up new facilities in Mexico is only expected to rise.
Benefits of Ally Shoring Between the U.S. and Mexico
In support of ally shoring, one of the main advantages of nearshoring to Mexico is it reduces the dependence on Asian supply chains and makes companies less vulnerable to trade risks, such as retaliatory tariffs and disruptions to the supply chain. With joint production in place between the U.S. and Mexico, ally shoring also fosters creation of industrial-focused jobs in both countries and a way to get new technology and products to market faster and at a more cost-effective rate.
Close Proximity
Receiving products of high quality, at a lower cost, with quick delivery are the key factors every business wants to provide their consumers. U.S. manufacturing companies can benefit from the close proximity to the U.S./Mexico border, especially when compared to production in China. Close proximity equals faster delivery and lower costs. This then results in better market satisfaction and more room for customization demands.
Shelter Services
Another benefit ally shoring brings to the table is the unique advantage of working with a shelter operation. Shelter operations in Mexico allow foreign manufacturers to get up and running with their production in a timely manner, usually within three to four months.
Furthermore, companies that choose nearshoring to Mexico limit their liability and exposure when partnering with a shelter because they do not have to establish their own entity. A shelter company takes care of all administrative responsibilities, including but not limited to site selection, hiring HR, tax, legal, and customs personnel, and acquiring all the necessary permits and certifications to be in compliance to operate in Mexico.
USCMA Protections
Lastly, the implementation of the USCMA has only strengthened the advancement of ally shoring due to the specific provisions that incentivize original content production within North America, as well as stronger intellectual property protection.
Ally shoring is mutually beneficial for the U.S. and Mexico and has become a central focus in the manufacturing industry today. Due to the contentious relationship between the U.S. and China first brought on by trade conflict and then heightened by the pandemic, the allyship between the U.S. and Mexico will only continue to grow.
Learn more about how ally shoring can benefit your company, and how a shelter services solution can save you time and money when nearshoring to Mexico. Contact IVEMSA today.
Sources:
https://usmexicofound.org/images/programas/documentos/1614490856AllyShoring.pdf
https://www.trade.gov/country-commercial-guides/mexico-automotive-industry
https://www.trade.gov/country-commercial-guides/mexico-aerospace
https://www.trade.gov/country-commercial-guides/mexico-internet-and-it-services