Main Trading Partners of Mexico's Electronics Manufacturing Industry
12.11.19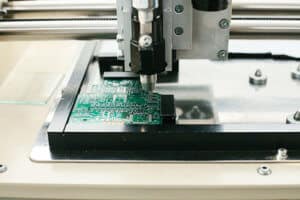 Manufacturing in Mexico is primarily comprised of the automotive, aerospace, and electronics industries. The range of electronic products Mexico produces, including everything from computers to telephones to video displays, continues to make it one of the leading manufacturing portals in the world. In 2017, Mexico exported $418 billion USD with these three products alone totaling a $52.2 billion export value.
Various areas of Mexico specialize in electronics manufacturing clusters, such as TVs, radios, and appliances in Baja California, where the electronics supply chain is more robust. You can find key companies like Samsung, Hisense, LG Electronics, and Panasonic with a recorded production value of $419 million as of 2017.
Further away from the border, Guadalajara, Jalisco, which is considered the "Silicon Valley" of Mexico, has established itself as an ideal location for electronics investments. It maintains eight of the top ten electronic manufacturing contracts worldwide, including IBM and Hewlett Packard. Due to the region's advanced education and skills training programs, this area supports a highly-trained, high-tech workforce that meets the needs of the growing electronics industry with approximately 18,000 IT graduates a year.
As a result, Mexico remains competitive as a leading exporter in the electronics manufacturing industry with Canada, China, Germany, and Japan, in addition to the U.S., as its main trading partners.
Canada
Computers were the largest group of electronic products exported from Mexico to Canada in 2017 with a valuation of $1.02 billion. In second place was video displays at $830 million, and electrical control boards rounding it out at $364 million. Electronic machinery and parts made up the second largest industry of products exported that year.
China
Following Canada, top electronics exports to China from Mexico were integrated circuits ($998 million), telephones ($677 million), and computers ($145 million) in 2017. Other main products included low-voltage protection equipment, broadcasting equipment, and electrical capacitors.
Germany
Second only to automotive, electronics was the second largest export industry in 2017. Top products included computers at $234 million export value, electrical control boards at $196 million, and microphones and headphones totaling $189 million. This is in addition to the electrical components supplied for telephones, automotive parts, and insulated wire, among other items that were exported from Mexico to Germany.
Japan
Finally, second to mineral products, electronics were the second top export to Japan from Mexico in 2017. The main electronics exported that year were telephones with $268 million export value, broadcasting equipment for $233 million, and computers at $86 million. Gas turbines, engine parts, and navigation equipment all ranked in the electronics category of main exports that year.
Mexico Remains a Competitive Electronics Manufacturer
Year after year, Mexico continues to be one of the top exporters of electronics equipment and machinery to multiple countries around the globe. Due to its investment in the skilled labor market and a workforce that is more cost-effective than other countries, it's an alluring option for companies who want to start manufacturing in Mexico.
For more information about the competitive advantages Mexico maintains in the top manufacturing industries, including electronics, call IVEMSA today.
Source: https://oec.world/en/profile/country/mex/; https://usmex.ucsd.edu/_files/events/frontera-fridays/tijuana-regional-profile-2017.pdf; http://www.mexico-it.net/invest-state-jalisco/