Evaluating Startup Costs When Nearshoring to Mexico
05.02.23
The manufacturing industry continues to evolve as more companies consider nearshoring to Mexico as a production strategy. Regardless of the sector, one of the first questions business leaders always ask is: how much will it cost to operate?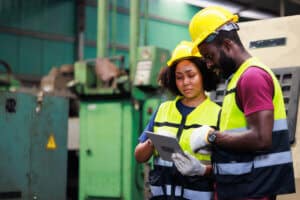 First-time setup for foreign manufacturers requires several types of costs. These include fees for site selection and utility setup; IMMEX program application and regulatory expenses; and hiring and training costs. It's important to budget for both initial operating costs, as well as have an idea of what ongoing expenses will be.
Though startup costs will vary depending on the size and scope of the project, working with a Mexico shelter company will show what a good investment nearshoring to Mexico can be.
Site Selection Fees
When setting up operations in Mexico, site selection is always the first step. Nothing can move forward until a facility and utilities are secured. Operators must choose a building based on the type of production being performed. They must also consider any improvement costs to customize it for safety standards and functional space.
Facility upgrades can range anywhere from lighting to ventilation systems and dock levelers to security cameras. A shelter company will provide a site selection analysis, which narrows down viable options for production. This analysis will include a city comparison matrix, plus separate labor and operation cost analyses by city. Manufacturers can then compare costs and benefits of each to make an informed decision.
IMMEX Program and Permitting Expenses
When nearshoring to Mexico, operators are required to set up a legal entity under the country's IMMEX (formerly known as the maquiladora) program. A maquiladora is a foreign-run factory in Mexico. Certification under the IMMEX program is an instant tax advantage since it exempts foreign manufacturers from the 16% value-added tax (VAT) on all the temporary imported goods such as equipment, machinery, and raw materials. There are also several other certifications and permits required in order to do business in Mexico, all of which cost time and money.
Regulatory permits are required by the state and municipality of where the production is set to launch. To be approved, everything must be in compliance with health and safety, waste disposal, and general operating protocols. For instance, per federal requirements in Mexico, every foreign manufacturer must submit an environmental impact study that is typically submitted by a third-party consultant, which lists waste streams and proposed strategies for controlling them. Shelter companies already maintain all licenses necessary to operate in Mexico, automatically saving manufacturers thousands of dollars in costs.
Read more: The rise of nearshoring in Mexico.
Hiring and Training Costs
Recruiting, training, and retaining employees is an ongoing part of the operational process. While labor rates in Mexico are much cheaper than in the U.S., the workforce in Mexico is very competitive. This means manufacturers must be ready to offer compensation packages to match. A shelter company helps companies budget accordingly to hire the qualified workers they need.
The costs are determined by the type of open positions available and number of employees. For a general understanding of cost comparison, fully burdened rates in Mexico for a semi-skilled operator average $5.80/hour USD. These rates include federal and state taxes, in addition to market benefits. Compared to the average $23/hour USD in the U.S., manufacturers have a clear idea of where they'll save.
Read more: 2023 skilled labor costs for manufacturing in Mexico.
Save Money by Working with a Shelter
A shelter company like IVEMSA optimizes costs in each of these areas, saving U.S. and other foreign operators tens of thousands of dollars in startup fees. Additionally, their expertise, experience, and local knowledge saves valuable time. When working with a shelter, manufacturers can expect to start operating in three to four months, compared to six or seven months when operating as a standalone.
Read more: Crucial questions to ask a Mexico shelter company.
Nearshoring to Mexico is already a cost-effective solution compared to outsourcing to China and production in the U.S. However, foreign operators can save even more when partnering with a shelter company.
Get more details on nearshoring your manufacturing to Mexico. Contact our team today.