Nearshoring to Mexico: Is It Cheaper Than the U.S.?
05.03.23
Many factors over the years have led to a surge of foreign operators nearshoring manufacturing to Mexico. Though the concept is decades-old, challenges with manufacturing in China and lingering effects from the global pandemic have caused Mexico to be in the spotlight once more.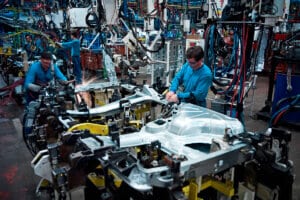 For U.S. manufacturers, in particular, the close proximity between the U.S. and Mexico makes it an optimal choice. However, the decision comes down to the cost difference between the two. Overall, it's less expensive to operate in Mexico than the U.S, especially with regard to labor and industrial real estate.
As both of these costs continue to spike in the U.S., manufacturers operating in Mexico can expect lower wages and leasing options. Let's explore further how these individual savings make a significant difference.
Lower labor costs when nearshoring to Mexico
Labor costs are the majority of operational expenses to account for when launching production. They include compensation, benefits, and payroll taxes, in addition to recruiting and hiring expenses. For many companies, it can result in as much as 70% of total business costs.
When comparing wages directly with the U.S., a fully burdened, semi-skilled operator in Mexico makes an average of $5.80 per hour compared to $23 per hour in the U.S. The fully burdened rate includes benefits required by Mexico, which isn't automatically part of the hourly or salary wages listed in the U.S. Though each job level differs in base wages, across the board, they are less in Mexico.
Read more: Skilled labor costs in Mexico.
Recruiting and hiring employees
In addition to base wages, the cost of recruiting and retaining employees in Mexico is less expensive due to its abundant workforce. Mexico continually graduates over 100,000 engineers every year. And with manufacturing being one of the country's top industries, finding qualified workers is easier than in the U.S.
The U.S. is currently facing a nationwide hiring crisis, particularly for industrial roles. There are far fewer people applying for production jobs than there are manufacturing roles available. Therefore, those who are willing to work in these positions are demanding more than what the average wages typically are. Plus, the time and expense it takes to recruit for these roles are much greater.
Read more: Nearshoring and the advantages of the IMMEX program.
Industrial real estate is lower in Mexico
Industrial real estate, especially along the U.S./Mexico border remains in high demand due to the convenience and proximity. These areas are already set up for manufacturing processes and within close distance to the U.S., which saves companies on transportation and delivery costs.
Though lease base rates will be higher near the border region than in other areas of the country, there are still notable savings. In Mexico, rent is approximately 40% to 60% lower than in the U.S. depending on the selected location.
Furthermore, there are several other industrial hubs set up throughout the country. For example, Hermosillo, Monterrey, and Queretaro are key manufacturing areas with convenient transportation routes and a competitive workforce. A shelter company like IVEMSA will research site selection options based on your production and budget needs. This will give you an overview and cost comparisons of each city.
While there are additional costs involved when nearshoring to Mexico, comparing labor and real estate is a good place to start. IVEMSA can provide a cost analysis based on your project needs and goals.
Get more details about what it will cost to nearshore to Mexico. Contact us today.
Source:
https://www.paycor.com/resource-center/articles/closer-look-at-labor-costs/