Nearshoring to Mexico & The Advantages of the IMMEX Program
04.14.23
Nearshore manufacturing has remained a hot topic over the past decade, particularly rising in popularity post-pandemic. Since 2020, a rising number of companies have begun to diversify their portfolios or completely move their outsourced operations from China to Mexico. However, the truth is nearshoring manufacturing has been a well-known business strategy for 50+ years.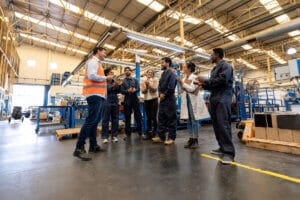 When Mexico's maquiladora program was introduced in the 1960s, it served as a way for U.S. and other foreign manufacturers to operate in a more cost-effective way. Initially designed to improve Mexico's economy through foreign direct investment, it's become central for manufacturing today. Nearshoring may be the newest coined term, but many have followed this business practice for decades.
There are tax advantages of the IMMEX (formerly known as the maquiladora) program, but the overall benefits of manufacturing in Mexico have been long standing. The close proximity to the U.S., cost-effective labor, a highly skilled industrial workforce, and the option of working with a shelter partner are all reasons why nearshoring remains an optimal choice.
IMMEX Program Tax Advantages
When importing production-related items, such as machinery and materials, foreign operators have the option of being exempt from the 16% VAT. This tax advantage is similar to being considered an economic zone within other countries. When operating under a shelter umbrella, these tax savings are immediate from day one. Whereas, standalone entities must apply for IMMEX program certification and be approved before the savings are applied.
However, despite the value of this benefit, U.S. and other foreign manufacturers would choose nearshoring to Mexico even without the IMMEX program. There are additional cost savings on labor, transportation, and infrastructure, particularly when choosing to partner with a shelter.
Read more: Understanding the Basics of Mexico's IMMEX Program and How Foreign Manufacturers Benefit.
Cost Savings Through a Shelter
Manufacturers can save approximately 60-65% in labor costs when operating as part of IVEMSA's shelter model. This is applicable to entry-level production jobs ranging from 50-100 workers. Furthermore, the labor availability and improved margins when nearshoring to Mexico help companies from having to increase consumer prices year after year. The lack of industrial workers in the U.S. have caused concern for manufacturers needing to fulfill production roles. But, in Mexico, these jobs continue to be highly competitive.
Read more: What Are 2023 Skilled Labor Costs for Manufacturing in Mexico?
Additional Nearshoring Benefits
Participation in the IMMEX program is not the only advantage of nearshoring to Mexico. Other benefits include faster, more convenient shipping compared to China. There's also easier travel and communication for U.S. manufacturers. And the U.S. and Mexico are part of the USMCA which incentives North America operations.
Furthermore, when nearshoring to Mexico, manufacturers can choose the unique option of a shelter company. A shelter like IVEMSA provides immediate IMMEX tax savings and also helps with all the administrative responsibilities necessary to launch production. This includes HR and recruiting, accounting, taxes, and legal setup, as well as trade compliance and permitting. It also reduces risk and liability for foreign entities, making it the preferred way to operate.
Whether it's referenced as nearshoring, reshoring, or manufacturing in Mexico, the opportunities remain the same. As companies continue to grow and increase their foreign direct investment, it only motivates others to do the same. For manufacturers starting production in Mexico for the first time, IVEMSA can serve as your strategic partner.
Learn more about the shelter model and how our services can work for you. Contact us today.