Mexico Site Selection: What to Consider
04.24.19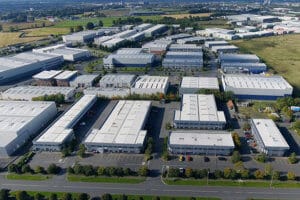 Mexico is the second largest importer and exporter to and from the U.S. Its infrastructure and modernized services help foreign companies extend their operations in a timely manner and lower cost, which is one of the many reasons they choose manufacturing facilities in Mexico. Therefore, the right site selection is crucial to the future success of a company's needs and goals.
Choosing a facility is a decision that takes time, research, and an in-depth comparison of possible locations. Among the many factors to consider during the process are the size and cost of industrial real estate, labor force and local work culture, and overall transportation costs.
Mexican Industrial Real Estate
There are several options when choosing a space to operate your manufacturing in Mexico. Many companies either find an existing structure to tailor to its needs or build a new facility specifically for the scheduled project. Zoning information, property age and quality, site size, landscape, accessibility to major transportation, and proximity to amenities are all details to consider when comparing potential sites. The process also requires an understanding of acquiring the correct permits prior to starting production.
By working with a shelter operator, foreign companies have access to a network of resources and contacts to help locate ideal spaces and secure all necessary licenses, permits, and certifications. It's a beneficial way to narrow down choices more custom fit to your company rather than selecting from a too-wide net of all industrial real estate spaces available.
Mexico Labor Force
The capability of a country's workforce is perhaps one of the most important factors. Fortunately, in Mexico, there's been a rise in skilled laborers to benefit foreign manufacturing companies. The Mexican government has made it a priority to invest in education and training programs for its workforce. These programs provide hands-on experience to create more opportunity and an increased selection of qualified workers in more advanced, technical industries.
When comparing the cost of labor in Mexico, the country's $3.60/hour average entry-level salary at a maquiladora is well below the federal minimum wage in the U.S. Also, the Mexico workforce follows a 48-hour workweek, which translates to increased productivity.
Read more: Manufacturing Insights: The Cost of Labor in Mexico
Mexico Transportation Costs
Transportation is a significant factor as well. If a site is selected with inefficient transportation links, any cost savings gained in real estate or labor can be easily lost to the higher cost of shipping raw materials and finished products to and from Mexico. Seek out Mexico industrial locations that offer at least two directions for inbound and delivery traffic.
Determine if the site is adaptable to the planned operational growth. Access to utilities for both the primary investment and future expansion is key. Water, sewer, electrical, natural gas, and telecommunications are all utilities to factor into the decision.
Read more: What Makes Mexican Manufacturing a Viable Options for US Firms?
Mexico Site Selection Analysis and Methods
After looking at industrial real estate, workforce, and transportation costs, narrow down site selections to a few options by using a factor rating system. Assign a point value to each deciding factor. Then, rate each site against each factor with a sum of the assigned points compared at the end. The site with the most points is the final decision. This is the most commonly used analysis.
Less common is the transportation method. It represents a linear encoding technique in Excel (or other similar application) to address potential transportation problems of products from various sources to a number of destinations. The objective is to minimize the cost of shipping and/or maximize shipping revenue.
Finally, the centroid method is a technique used to locate transitional facilities that account for existing amenities, the number of goods to be shipped, and the space between them. Using this method assumes inbound and outbound transportation costs are equal.
Implementing one of these methods is another layer of finding the right site for companies who want to start or expand manufacturing in Mexico. Contact IVEMSA for a consultation about how to choose the right Mexico site selection for your business.