Manufacturing Insights: The Cost of Labor in Mexico
03.14.19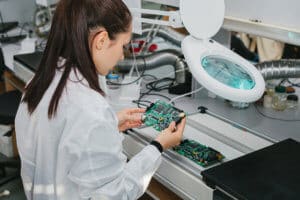 One of the biggest reasons companies in the US or other countries move their manufacturing to Mexico is because of lower labor rates. Cost of living in Mexico is generally much lower than in the US, so companies are able to attract skilled workers and produce quality products at significantly lower rates.
With the recent increase in Mexican labor rates (as of January 1, 2019, the minimum wage increased by 16% nation-wide and doubled in the municipalities that adjoin or are close to the US/Mexico border), there has been some concern and confusion over how manufacturing costs will be affected.
The good news is that most companies with facilities in the border region are seeing minimal changes to their operating costs. The manufacturing in this region is primarily highly technical industries, such as aerospace and medical device manufacturing, with competitive job markets, so most employers are already paying at least double the previous minimum wage. We have advised some clients on how to adjust their salaries to comply with the new minimum wage, but overall, we haven't seen significant impacts in the manufacturing industry or labor markets.
Although with the wage increase, some of the benefits employers are required to pay (social security, etc.) have increased as well, there haven't been any other changes to required benefits. We currently don't anticipate other significant changes or legislation on Mexican labor rates that will affect the maquiladora/IMMEX program, but we're staying on top of all proposed and potential legislation so we can work with our clients quickly to adjust plans if needed.
Skilled Workers at Competitive Rates
The reputation of the Mexican labor force continues to grow. Mexico excels at providing highly skilled, well-trained workers in industries ranging from automotive to electronics to aerospace. Our clients are routinely very pleased with the talent they find in the Mexican labor force, especially in well-known hubs—Tijuana and Baja California, for example, are especially attractive to medical device manufacturers. They are able to easily find workers who are proficient in specific skills or experience with specific machinery. They also typically can hire people who already have experience with maquiladoras—that is, they have already worked for American companies and tend to speak at least some English and are familiar with American manufacturing practices.
The experience of the Mexican labor force is a benefit for companies that want to get started quickly. They're able to find people who need minimal training or skills development and can just jump onto their production lines. There are also a lot of workers with basic knowledge who are eager to learn new skills and tend to learn quickly.
Mexican labor rates remain much lower than in the US, and the skills and experience offered by the Mexican labor force are another significant benefit for manufacturers. Despite the recent changes and new laws, interest in establishing operations in Mexico, especially in the border region, remains strong.
Learn more about how IVEMSA sets up companies for success when manufacturing in Mexico—request a consultation today.