Mexico Manufacturing: Shelter Services vs. Consultants
02.24.21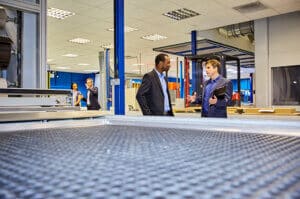 There are a few different ways to set up operations when manufacturing in Mexico. The decision often comes down to working under a shelter or operating independently with the help of a consultant. Main considerations include costs, expertise, and transparency.
Comparing these two options side by side will give you a better overview of what to expect from each and help determine whether a shelter operation or a consultant is the better route for you.
Costs: All-Inclusive or Hourly Rate
Cost is typically one of the top factors when making any business decision. With Mexico manufacturing, it's more cost-effective to hire a shelter services operator versus a consultant due to its all-inclusive nature. IVEMSA performs a free pre-assessment and analysis to help guide companies as they're getting started. Shelter costs encompass all necessary departments for starting a new operation. These include but aren't limited to HR, accounting, legal, and trade compliance.
They also include permits, certifications, and other startup fees associated with the operational process. There are no hidden costs for extra hours or salary negotiations between individual operational departments to contend with. It's all included as part of the full suite of shelter services.
Alternatively, a manufacturer that decides to operate independently must put together these individual pieces to set up operations on their own. They must apply for and pay fees for all permits and certifications, in addition to value-added tax, an additional cost that's eliminated under a shelter operation.
Essentially, consultants can guide which positions are needed and where to hire but they aren't equipped to provide the services. Each hour of research and analysis is charged to the company without any of the proposed solutions readily available. And, they're unable to offer the same tax benefits as working under a shelter.
Expertise: Hands-On Experience or Go-Between Coordinator
Relying on the hands-on approach offered by a shelter services operation also saves on time and costs when manufacturing in Mexico. Knowing the ins and outs of how to source the right people and implement services in a way that's the most cost-effective and efficient is valuable. It speeds up the learning curve and gets an operation up and running more quickly.
Additionally, when a manufacturer decides to work under a shelter, they benefit from the expertise of relationships built up over time that helps with recruiting, customs compliance, and other areas where knowing who to talk to and where to look are key. Although seasoned consultants may have similar experience and connections, they often work as the go-between resource rather than an active and direct part of the process.
Lastly, working with a shelter allows manufacturers to maintain full control of their operation, just as hiring a consultant does. However, this is achieved without having to take on the legal risk of forming their own entity.
Education and Transparency: Customized Options or Generic Solutions
Our main goal is to help manufacturers find the right fit by providing as much information as possible and offering customized solutions. While most companies choose the convenience of shelter services, there are others that decide operating as a standalone entity works better for them. Both are options we can help implement. Everything is based on specific company and project needs.
Conversely, consultants provide guidance based on situations they've worked with before and general processes for how to get started. This somewhat generic approach may not apply to all manufacturing needs. Whereas, a shelter services company performs an in-depth site selection analysis and has established contacts to assemble the necessary positions for an operation.
For example, a shelter company can introduce different contractors that'll help with building improvements during the startup phase, such as electrical, construction, layout design, and rigging, to name a few. These aren't areas a consultant is equipped to handle. Additionally, a shelter company helps to:
Closely monitor vendor performance and progress
Assist with recruiting and hiring all employees, including the general manager
Continuously recommend HR best practices to stay competitive in the market
Share ways to improve your operation or reduce costs
This ongoing support is not part of a consultant's services. A shelter company goes above and beyond to do what's best for its customers. Specifically, during the Covid pandemic, IVEMSA actively worked with authorities and our customers to ensure full compliance with the sanitary regulations. This granted our customers approval to remain open and continue to operate without interruption.
Lastly, our expertise in trade compliance and our VAT certification through the IMMEX program allows customers to avoid VAT payment on all temporary imports from day one. All of these continuous efforts and significant advantages are simply not part of what a regular consultant can offer.
It's clear that making the decision to expand manufacturing to Mexico is made easier with the help of a shelter services operator. Contact us today to start your free consultation. Together, we'll discuss the details of your project and what's feasible in terms of accomplishing what you need.