The Evolution of the Automotive Industry in Mexico
08.20.19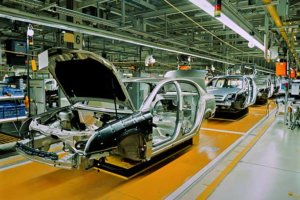 The U.S. has been an industry leader in automotive manufacturing since the early 1900s when Ford Motor Company was created. Since then, automotive giants such as General Motors and Chrysler have joined the ranks of competition with regards to vehicles made in the U.S. The evolution of technology and design innovation have led many brands to move part of their supply chain to Mexico where they can still be competitive in the market at a more cost-effective and efficient rate.
To understand where Mexico stands now as an asset to U.S. manufacturers in the automotive industry, it's important to look back on earlier decades to see how the relationship between the two countries has grown and thrived.
U.S. Nearshoring in Mexico: The Early Years
Ford Motor Company has benefited from nearshoring in Mexico since its early stages of production. In 1925, Henry Ford built the first auto manufacturing facility in Mexico, which housed the production line of the famed Model T. This move led Ford's competitors Chrysler and GM to follow suit and begin setting up assembly lines south of the border starting nearly a decade later. Then, other foreign automotive manufacturers, including Nissan and Volkswagen, joined in by the mid-1960s and opened up factories of their own.
However, during this time, factories that were built near Mexico City suffered from outdated machinery which led to inferior vehicle construction. By the early 1980s, as Mexico experienced a debt crisis, the Mexican government called for new policies to encourage U.S. automotive manufacturers to open better-equipped facilities with more modern updates that were situated closer to the U.S./Mexico border. And a decade later, NAFTA changed the game for both countries.
Read more: 6 Things Automotive Manufacturers Should Know About Manufacturing in Mexico.
Highlights of NAFTA: 1990s
The North American Free Trade Agreement, or NAFTA, was passed in 1994 and signed by the U.S., Mexico, and Canada to enable smoother, more efficient and cost-effective border trade between the three countries. The agreement led to higher investments from automotive manufacturers to install advanced equipment and technology. This helped plants in Mexico become more comparable to the operations in the U.S. and Canada. Other highlights of NAFTA included:
Eliminating tariffs. Before NAFTA, goods exported from Mexico generally resulted in tariffs of 30 percent or more and included delays in processing paperwork.
Reducing border barriers. The agreement also aimed to create policies that resulted in more efficient processing and licensing requirements.
Establishing standards. All three countries agreed to step up safety and environmental standards, which also helped to improve inspection speed and export product certifications.
In 2018, NAFTA was renegotiated and updated to what is now the United States-Mexico-Canada Agreement (USCMA). The ongoing agreement between the three countries have made it easier for automotive companies to expand operations to Mexico. When combined with the emergence of the IMMEX program, it has positioned Mexico as a viable option for nearshoring.
Introduction of the IMMEX Program: 2000s
The IMMEX program was launched in 2006 as an evolution from Mexico's former maquiladora program. It provides a cost-effective way for foreign companies to temporarily import their goods, raw materials, and equipment to Mexico tax-free as long as the finished goods are exported within a set amount of time. Although duty-free imports are a benefit as well, this only applies when the origin is NAFTA or from a country that has trade agreements with Mexico. This is an advantage to U.S. companies that want to operate in Mexico. It also creates more jobs among Mexico's labor force.
This has led to a competitive pool of educated and trained talent in Mexico. Each year, the country graduates more engineering students than the U.S. and the labor cost is significantly less. Between the USCMA, IMMEX program, a skilled workforce, and better logistics, Mexico is a top choice of automotive brands that want to expand its operations.
Nearshoring to Mexico: Present Day
According to a CNN report, approximately 2.7 million automobiles were imported from Mexico in 2018. Additionally, 16% of auto parts used by U.S. assembly plants and 70% of wire harnesses specifically (which carry power throughout a vehicle) come from Mexico. General Motors now leads the way in automotive production in Mexico with 14 manufacturing factories. And, the country is ranked as the fourth largest automobile exporter behind Germany, Japan, and the U.S.
Nearshoring continues to be a competitive choice among the automotive industry because of everything Mexico has to offer. This includes more cost-effective labor and production, closer proximity to the U.S. than China, and longstanding trade agreements in North America. Auto manufacturing has changed throughout the decades but has always been one of the top export industries.
Working with IVEMSA
IVEMSA has worked with U.S. automotive and other industry manufacturers for decades to help companies expand their operations to Mexico. Among its nearshore services, IVEMSA helps with legal and government compliance, accounting, and human resources. This allows manufacturers to concentrate on production and quality control of their facilities and assembly lines.
To learn more about how IVEMSA can help your company, contact us today.