Manufacturing in Mexico: 6 Things Automotive Manufacturers Should Know
03.07.19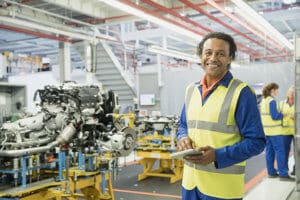 For decades, the automotive manufacturing industry has looked to Mexico as an ideal location for production and assembly plants. Many major automotive companies, including Ford, GM, Chrysler, Volkswagen, Toyota, Honda, Nissan, Audi, BMW, and more, have established operations in Mexico to take advantage of the low costs of labor, high productivity, and access to the US and other markets in North and South America.
If you're a manufacturer in the automotive industry looking to expand or establish a facility in Mexico, here are six things you should know:
Automotive manufacturing in Mexico is a mature industry
Ford first established a plant in Mexico in 1925 and is the longest-running automotive brand in the country. Although the industry slowed down from the 1960s through the early 1990s, following the adoption of NAFTA and Mexico's economic growth, many companies established (or re-established) facilities in the country. As OEMs started manufacturing in Mexico, they drew their Tier 1 suppliers to the country, which in turn drew Tier 2 and 3 suppliers. The result is a very robust supply chain, with manufacturers in most regions of the country.
Because of the industry's long history in Mexico and the Mexican government's dedication to educating the workforce, there are also lots of skilled workers with technical or engineering backgrounds.
Mexico's Free Trade Agreements offer access to global markets
Mexico's government has negotiated 12 Free Trade Agreements (FTAs) with 46 countries—more than any other country in the world. When NAFTA was signed, manufacturers in many industries started setting up facilities in Mexico to more easily reach the US and Canada, but Mexico also makes it relatively easy to export to Latin and South America, the EU, and other countries.
The automotive industry in Mexico is concentrated in the central and eastern regions
Although some brands, like Toyota, have plants in Baja California, most OEMs have plants in the central and eastern states, where they have easy access to a large number of suppliers and efficient rail infrastructure to export the finished vehicles to the US. Labor also tends to be even less expensive in the central parts of Mexico, as opposed to the border regions.
Read more: What You Need to Know About Recent Legislation and Mexican Labor Rates
Mexico's shelter and maquiladora programs are ideal options for smaller suppliers
Larger OEMs typically have the resources to establish and manage independent entities in Mexico, but smaller Tier 1, 2, and 3 suppliers often choose to work with a shelter provider. This way, they can minimize risk and liability and set up their manufacturing facilities in Mexico much more quickly. The IMMEX/maquiladora program allows manufacturers to eliminate the VAT tax payment at Mexican customs when they import raw goods, components, and equipment for their production facilities.
If needed, shelter providers can help suppliers incorporate in Mexico
The IMMEX/maquiladora program is designed for companies that manufacture products for export—a maquiladora needs a separate entity to sell its products domestically in Mexico. A supplier can transfer its goods to a client in Mexico if that client is also operating under the maquiladora program. However, some suppliers might run into challenges if their client has established its own entity in Mexico. In this case, the supplier will need to incorporate in Mexico as well. A good shelter provider can assist with every step of this process—and can provide administrative support, such as HR, Accounting, and more, even after incorporating.
The automotive manufacturing industry in Mexico continues to grow
The automotive industry generates 3% of GDP, 17% of manufacturing GDP, and 32% of Mexico's total exports. Mexico is the seventh-largest producer of vehicles globally and the fourth-largest exporter of light vehicles. 2017 was a record-setting year for light vehicle production with 3.77 million total units. According to current forecasts, the industry could produce five million cars in 2020.
In recent years, Kia, Audi, Ford, and Toyota have announced the construction of new plants in Mexico, with more expected from Infiniti, Mercedes-Benz, and BMW. Mexico is striving to expand and improve its infrastructure and ports in order to meet the increased production goals. Over 100,000 new engineering graduates join the workforce each year so labor needs can be met as well.
Mexico's automotive industry continues to offer huge opportunities for foreign manufacturers. To learn more about how IVEMSA can help you succeed when manufacturing in Mexico, contact us today.