Establishing Quality Suppliers in Mexico
08.27.20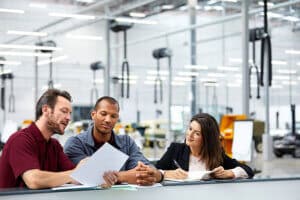 U.S. manufacturers have set up successful operations south of the border as a way to reduce costs and preserve quality and efficiencies in production, while also remaining in relatively close proximity. Much of the success of nearshoring operations in Mexico is based on establishing strong supply chains. The trade relationship between the U.S. and Mexico has been favorable for decades due to the North American Free Trade Agreement (NAFTA) and more recently, the United States-Mexico-Canada Agreement (USMCA).
With the continuing conflict between the U.S. and China, many companies want to minimize their dependency on China for their supply chains and move all or part of their foreign manufacturing operations to Mexico. As more businesses are expanding their options, it's important to define strong supplier relationships to maintain consistency, cost-effectiveness, and quality.
This calls for continuous improvement of the process by streamlining protocols and providing new solutions that are adaptable to changing environments. To establish quality suppliers, it requires identifying supplier capabilities and creating a supplier assessment and improvement plan.
Identifying Supplier Capabilities
It's important to identify whether a supplier can support the volume and capacity of products and shipments required without lagging on delivery time or quality assurance. This has been a cause of concern for companies that solely rely on supply chains in China. Delivery delays and increasing labor and shipping costs have caused disruption in production and profitability, which has led many to seek out Mexico as its next business strategy.
As an all-inclusive shelter services company, IVEMSA helps companies establish quality supply chains needed to move Chinese manufacturing goods to Mexico and obtain a made in Mexico status necessary for exemption from U.S. import taxes. The key factor in this process is determining the country of origin of the final product. This requires establishing the HTS tariff classification and the Bill of Materials (BOM).
To achieve this, IVEMSA experts can assist manufacturers with a duty impact analysis, which outlines what's needed to make a detailed evaluation of the different percentages required for a product to be considered as made in Mexico or USMCA-approved.
Having access to these services allows companies to benefit from an expedited operational setup as well as customized solutions to develop a supply chain base when relocating production activities from China to Mexico.
Creating a Supplier Assessment and Improvement Plan
Finding the right supply chain model is the first step, but there must be quality assurance measures in place to maintain competitiveness and consistency. To strengthen the supply chain, it's important to review specific criteria on a regular basis to ensure best practices are followed and efficiencies are met. Among the items to review are legal and customs compliance, product quality based on provided specifications, and tracking delivery rates.
Auditing the supply chain with this framework provides key checkpoints for improvement. Manufacturers can then identify areas of opportunity where the process can be adjusted and improved. It also provides accountability measures and clear communication regarding expectations and quality of service to increase productivity and profits for the long-term.
Partnering with a Shelter Services Company
Manufacturers prefer to work with a shelter services company in Mexico that already has a history of supply chain success and are kept up-to-date with changing compliance requirements. IVEMSA has plenty of experience supporting companies that are setting up operations in Mexico but that also need to evaluate the relocation of suppliers versus developing or working with local suppliers. IVEMSA always customizes its services based on each company's specifications, goals, and adapts to deliver the best supply chain strategy.
IVEMSA believes that by helping companies identify supplier capabilities, develop quality assurance measures, and continually find new opportunities for process efficiencies, it establishes strong supply chain relationships that lead to greater success for new operations in Mexico.
Find out how your company can benefit from working with IVEMSA by scheduling a consultation today.