Aerospace Industry Finds Answer to U.S. Labor Shortage in Mexico
06.28.22
Due to port closures and delays, a decline in the industrial workforce, and other unforeseen challenges, the COVID-19 pandemic caused industry setbacks across the board including in aerospace manufacturing. After experiencing drastically reduced air travel and decreased aircraft sales, the sector is now trying to recalibrate to pre-pandemic times. However, as business prepares for the next phase of growth, labor shortages are presenting new problems.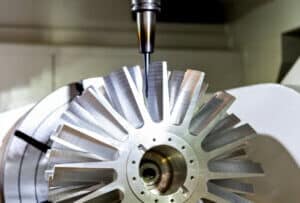 The aerospace supply chain is having difficulty recruiting production jobs to assemble parts needed to meet market demand. In addition to the labor shortage, there's also growing concern over delayed plane completion due to struggles in material procurement. Unfortunately, this isn't an isolated incident. Nearly all major aircraft suppliers are facing the same setbacks.
According to a recent supplier survey, approximately two-thirds cite labor shortages as the biggest risk to aerospace growth. Global manufacturers leading the industry are feeling the strain:
Aerodynamics Advisory reports a 10% to 20% worker shortage
Howmet Aerospace Inc. has reduced staff by 17%
Precision Castparts Corp. has reduced staff by 40%
Raytheon Technologies Corp. is experiencing a shortage in welder positions, specifically
Industrial roles require specialized training with companies willing to offer competitive wages. And with a generation of the industrial workforce retiring and another segment leaving for careers in other sectors, there simply aren't enough qualified applicants in the U.S. to fulfill the roles, which is where Mexico's workforce steps in.
Benefiting from Mexico's Industrial Workforce Availability
Aerospace manufacturers have long turned to Mexico manufacturing as a way to reduce costs and meet labor needs for production. Over the past several decades, aerospace manufacturing clusters have formed throughout the country with tens of thousands of skilled laborers in place to support the world's largest aerospace companies. Rather than delay production or limit expansion by battling to find qualified industrial talent in the U.S., the strategic move would be to expand the search into Mexico.
Queretaro is a well-established aerospace manufacturing hub. Bombardier established its presence in Queretaro in 2006 and recently celebrated its 15th anniversary and the completion of the 100th rear fuselage for the Global 7500 business jet. Sonora is another prime area of activity for the sector, now documented as the second-largest aerospace cluster in Mexico.
Merida is also a quickly growing region supporting the aerospace industry. This southeastern part of the country offers comparatively lower labor rates with easy accessibility to maritime ports, as well as aerial, railway, and highway transportation. There's also less reported workforce turnover with many employees loyal to the same company for 20-25 years, resulting in fewer higher costs and less training necessary to keep operations going.
Mexico has invested in and grown its industrial workforce through continued education and special training programs established through partnerships with global manufacturers. While the U.S. is experiencing a massive gap in workers willing to work industrial roles, Mexico continues to fill those empty spaces.
Though there's greater availability of industrial workers, there's also heavy competition, which is why many manufacturers choose to work with a shelter company. IVEMSA offers HR and recruiting as part of a full suite of shelter services to meet each manufacturer's hiring needs while also saving significantly on labor costs when compared to the U.S.
Sources:
https://journalstar.com/boeings-bet-on-jet-building-frenzy-rests-on-fragile-suppliers/
https://www.globenewswire.com/news-release/2021/05/10/2226276/0/en/Bombardier-Celebrates-15-year-Anniversary-of-its-Quer%C3%A9taro-Mexico-Site-as-Facility-Delivers-the-100th-Global-7500-Aircraft-Rear-Fuselage.html
https://mexico-now.com/sonoras-aerospace-industry-is-growing/
https://www.theyucatantimes.com/2022/01/yucatan-has-a-huge-potential-for-the-development-of-an-aerospace-cluster/