Nearshoring to Mexico: Why Merida Is a Smart Long-Term Investment
03.29.22
Merida has become a location of conversation among manufacturers seeking their next long-term investment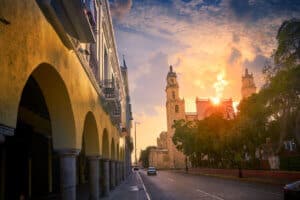 when nearshoring to Mexico. The city offers several similar advantages companies experience when operating close to the U.S./Mexico border, though there are several distinguishable factors as well. During this transitional time in the region, industrial companies looking for space to grow in a safe, secure, and pro-business area, should give Merida a second look.
As a long-term investment, U.S. and other foreign manufacturers can benefit from a quality way of life with optimal growth potential and labor stability. Merida is quickly becoming one of the leading options for those who want to expand nearshore manufacturing beyond the northern border of Mexico.
Favorable Living Conditions with Safety at the Forefront
The way of life is different than what people often experience at the border. Merida is comprised of a community of people who are laid-back yet hard-working and company-loyal yet excited for growth and innovation. In terms of safety, it's in first place nationwide when it comes to public safety perception and maintains a peace index comparable to New Zealand and Iceland.
This satisfactory quality of life entices people to put down roots by living and working in Mexico versus working in Mexico but living in the U.S. For people seeking a safe, secure place to live that's rich with culture and primed for advancement, Merida is a favorable destination.
Optimal Growing Potential and an Established Supply Chain
With regards to growth potential, there are a lot of townships and new locations that create new possibilities for expanding nearshore manufacturing options. Various industries are already present in the area with textiles and tourism leading the way. However, logistics and distribution are a big part of the transition to the future due to the easy access to Puerto Progreso port. Additionally, Merida has pro-business government support with leaders who are focused on expanding industrial parks and research centers to promote further innovation and development.
Merida is also suitability set up for manufacturing expansion due to its strategic geographic placement and access to central Mexico. With multiple international and national air routes and railroads connecting to the U.S., Merida can be a central link for manufacturers with service to the Midwest and eastern parts of America. Depending on the shipping destination, it could offer a more convenient and cost-effective route than shipping from the north of Mexico.
Labor Stability and Facility Availability
Manufacturing companies that require extensive manual labor or assembly will find the labor costs in Merida competitive due to the availability of direct labor workers who embrace company loyalty; thereby, keeping turnover low. In some cases, the cost difference is significant enough when compared to salaries closer to the U.S./Mexico border.
Furthermore, depending on the type of building, facility costs can also be a central point of savings for manufacturers. There is a lot of available land and warehouse space with interconnected transportation networks to support an evolving industrial landscape. Yucatan's Port Progreso maintains worldwide connections with seven regular service shipping lines and weekly services to Texas and Florida. Merida also leads the way in public safety, regulatory improvement, and state competitiveness.
Working with a Shelter Company When Nearshoring to Mexico
Nearshoring to Mexico already provides multiple advantages compared to offshoring to China. With the increasing number of industrial locations in a transitional phase, it makes this strategy all the more alluring for U.S. and other foreign manufacturers as part of a long-term investment.
To determine if Merida is the right destination for your operational setup, contact IVEMSA today.