3 Strategic Sourcing Steps and How Nearshoring to Mexico Plays a Part
09.27.22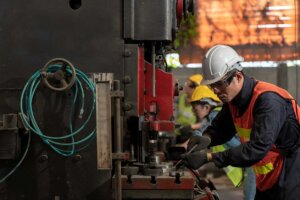 Sourcing quality suppliers is essential to a production's efficiency and overall success. However, when setting up operations in a foreign country, it can be difficult to know where to get started. The common urge is to select the cheapest price for material procurement, though this could eventually cost more due to a lack of quality.
Implementing strategic sourcing is a way to add long-term value and continually optimize manufacturing processes. Additionally, working with a shelter operator like IVEMSA provides the expertise and network connections to ensure your goals are met by following these steps.
1. Evaluate Project Needs
Too often manufacturers jump into supplier negotiations before even considering exactly what they need and how much they can afford to spend. Organizing the types, sizes, and quantities of products being sourced and comparing them against a spend analysis provides greater visibility about the ideal amount to reduce costs and minimize risks.
Even after the initial evaluation, keep in mind that supplier availability and pricing will change over time. It's smart to identify all possible opportunities and weigh them against the risks, while also tracking key factors that drive costs, including importing/exporting and labor.
When nearshoring to Mexico, foreign manufacturers are exempt from the 16% VAT on all temporarily imported goods, materials, and equipment under the IMMEX maquiladora program. This tax advantage is automatically applied when partnering with a shelter provider since they have certifications and permits already in place.
2. Develop a Sourcing Strategy
After researching suppliers, narrow down to top candidates and begin seeking bids. This can be done through a request for quote (RFQ), when sourcing manufacturing goods and materials. An RFQ can also be used for product pricing comparison and purchasing information from vendors.
The other common sourcing strategy is a request for proposal (RFP). An RFP contains all project details, including specifications, pricing, and terms and conditions. Once you've secured a window of time to receive all RFQs and RFPs, then leave time to compare information and decide the best supplier for your production needs and negotiate pricing from there.
3. Implement (and Monitor) the Solution
After finalizing the supplier partnership, implement the solution and ensure all parties, from the supplier to the end user, are involved in the integration process. Also, track results and make adjustments as needed to maintain effectiveness. This can be achieved through automated reporting. Choose software that allows you to track metrics like spending, savings, and performance to make data-driven decisions about sourcing value.
Nearshoring to Mexico offers manufacturers competitive advantages in terms of strategic sourcing. These include reliable supply chains, a well-established infrastructure, and less expensive production costs. Also, shelter service providers like IVEMSA provide experience and expertise to guide manufacturers through the sourcing process, as well as handle all of the administrative responsibilities necessary for setup.