What to Know About Workers' Rights in Mexico
03.27.19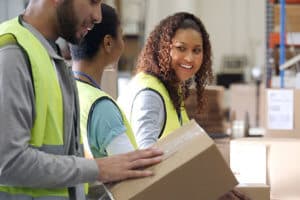 Before setting up your manufacturing operations in Mexico, it's important to know the basics of Mexican labor law and workers' rights in Mexico.
In general, Mexican labor laws tend to be protective of the employees. One of the many benefits of working with a shelter provider is that you'll also get the expertise of HR professionals who understand all the ins and outs of Mexican labor law. While you don't need to know every detail, you should understand certain parts, like the seven basic rights granted to all Mexican workers:
Vacations and Holidays
All employees are entitled to six days of vacation in their first year of service. They receive two additional days each year until their fourth year of service. After that, they receive two additional vacation days every five years. Mexico also has six paid national holidays, plus the Change of Federal Power Day every six years when a new president is sworn in.
Workers also receive a holiday bonus, equivalent to 25% of the amount received during vacation days, and an annual bonus equivalent to wages for 15 days of work. The Mexican work week maxes out at 48 hours, and workers are given one day of rest per week.
Labor Contracts
All workers must have a written contract with their employer. The contracts identify:
The employer and the employee
Duration of employment
Services that will be rendered by the employee
Place of work
Salary
Training the employer will provide
Vacation and time off
It is very important to offer the correct contract to employees—it will stipulate whether they are full-time, part-time, seasonal, or temporary workers.
Non-Discrimination
Workers in Mexico are protected against discrimination based on race, nationality, sexual preference, religion, social and marital status, age, gender, and disability. Protections extend during the hiring process and throughout employment.
Protection of Personal Data
Personal data protection is not specified in Mexican labor law, but the Federal Law for Protection of Personal Data stipulates that the treatment of personal data is subject to consent of the person to whom it belongs. Employers must share privacy notices with employees.
Maternity Leave
Female employees are granted up to 12 weeks of maternity leave, during which time their salary, benefits, and rights must be protected. The Mexican Institute of Social Security (IMSS) will pay 100% of the employee's salary for those 12 weeks. If employees decide to extend this leave, they will receive 50% of their salary for up 60 additional days.
Termination of Employment Relationship
Mexico does not recognize at-will employment, so employers must maintain records and justify any termination. Without this, employers will have to pay the employee 90 days salary, plus 20 days salary per year of service and a seniority bonus.
Profit Sharing
Finally, all workers have the right to participate in the profits of the company by which they are employed.
Interested in learning more about manufacturing in Mexico and how a shelter provider can support your operations? Request a free consultation today.