Unique Benefits of Nearshoring to Mexico for U.S. Manufacturers
09.26.22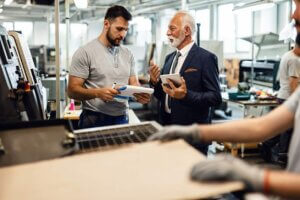 For decades U.S. manufacturers have been outsourcing production to other countries where costs are less expensive and expedited requests can be met. China has been a central source of outsourcing, though nearshoring to Mexico has gained headway over the past few decades as a long-term strategy to help cut costs.
As tensions between the U.S. and China continue, the number of U.S. manufacturers setting their sights squarely on Mexico has increased. Many prefer the closer proximity and favorable trade relations Mexico offers to meet their production needs.
Though nearshoring to Mexico isn't a novel concept, it's one many are considering for the first time. Here are some of the unique benefits illustrating why it's an advantageous option and how it supports the industry during this time of transition.
Time and Cost Savings
Mexico already has an infrastructure in place to support incoming foreign manufacturers. Also, with the country's lower cost of living, labor wages are also significantly lower compared to the U.S. and China. Furthermore, the industrial workforce doesn't face the same labor shortage struggles as other countries, allowing manufacturers to recruit the numbers they need for their projects more quickly.
Proximity Convenience
Disruptions to a production timeline are costly to manufacturers. Nearshoring to Mexico allows manufacturers in the North American market to work in similar time zones, which makes collaboration and scheduling meetings easier. Additionally, travel time from the U.S. to Mexico is simplified, especially compared to flying overseas to China. For those operating close to the U.S./Mexico border, it's a fairly quick drive or flight to arrive at their facility in Mexico.
IMMEX Maquiladora Program
The IMMEX maquiladora program is another unique benefit for operators nearshoring to Mexico. It exempts U.S. and other foreign manufacturers from the 16% VAT on all temporarily imported goods, materials, and equipment, which adds up to significant savings. And, for those who work with a shelter operator, this certification is already in place which means companies receive the benefits from day one.
Availability of a Shelter
Working with shelter experts costs far less than recruiting and training new talent for each department. A shelter has a built-in team that's responsible for all administrative tasks, including taxes and accounting, HR and recruiting, and customs compliance. Plus, with a proven history of success and familiarity in the market, partnering with a shelter lowers the learning curve and reduces operational risk.
Deciding If Nearshoring Is a Fit for Your Business
Typically, those serving a North American market and want to save on costs decide to set up production in Mexico. With less expensive labor and favorable logistics among the many advantages, this option helps companies get products to market quicker and scale at a more affordable rate.
The majority who decide nearshoring to Mexico as a long-term strategy choose to work with a shelter. However, there's also the option of setting up a standalone operation as well. At IVEMSA, we can talk through your options and help you determine the right fit for your company.