Essential Questions for Interviewing Mexico Shelter Service Providers
04.16.19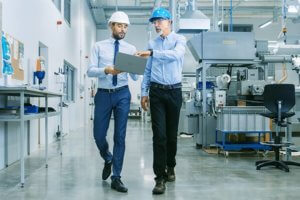 Companies that engage Mexico shelter services reap the benefits of manufacturing in Mexico without going through the complex process of setting up a foreign entity. Operating under a business shelter bridges the gap for foreign companies who want alternative or additional options to their current production. To ensure a profitable and positive business relationship, consider these questions when interviewing a Mexico shelter company.
What Tax Duties Am I Liable For?
Under the IMMEX program, raw materials, such as wood and steel, are imported into Mexico on a temporary basis. As a typical example, the manufacturing company adds value to the materials by changing them before they are exported back to the U.S. at a low duty. Low duties or non-duties normally apply to imports to Mexico and finished good exports to the U.S. but only when materials are classified as NAFTA or USMCA. It's important to keep in mind that duties are dictated by the country of origin.
Additionally, by operating under a Mexico shelter company, foreign businesses do not pay income tax for the first four years and are exempt from VAT payments at Mexican customs. In order to receive this exemption, the shelter provider IMMEX program must have a valid VAT certification.
The IVEMSA team performs a duty impact analysis to let clients know beforehand if their equipment, material, or components have import duties and to properly classify their goods for a smooth importation process. This is recommended to prevent possible duties applied to their products. Having a partner that is an expert in the import/export business in Mexico protects businesses from potentially high duties.
What Are the Cost Savings?
There are typically cost savings on rent in Mexico compared to the U.S. The majority of savings, though, comes down to less expensive labor costs. The average base salary in Mexico is approximately $3.60/hour for entry level work compared to $7.25/hour, the current U.S. federal minimum wage.
Human resources and recruiting are a large benefit of obtaining Mexico shelter services. A shelter company has an extensive network they have access to, which aids in this process versus a company trying to handle on their own. A shelter operator can also build a customized model that guides how much these operational costs total for a year. Not only is this helpful for what's needed in present day-to-day business, but it helps for scaling in the future.
Are Contracts Flexible?
Since manufacturing companies work to deadlines of getting new products to market, time is money. As a result, a contract that can adapt to continuous growth is ideal. Like with any business relationship, there is a contract commitment based on the project request. However, it's easy to renew or extend based on what the manufacturer needs to grow and stay flexible.
Consider client retention rates when choosing a Mexico shelter company. Low turnover means clients have the autonomy they need to do business while engaging in a partnership that is not a "vendor exchange," but rather a long-term business relationship with trusted people and processes.
Who Do the Employees in Mexico Report To?
Employees report to the manufacturing company. While part of Mexico shelter services includes recruiting, the employees are like any other addition to the staff and are expected to adapt to the same company culture and guidelines. They are hired and trained by representatives of the client. There isn't a sharing of space or workers with other companies that also choose to use shelter services. Each company is treated individually with a plan that is customized to fit their specific needs.
Should I Be Concerned with Current US/Mexico Border Relations?
According to one report, when the border between San Diego and Tijuana shut down for six hours in November 2018, it cost the U.S. an estimated $5.3M in lost business. Many government and business officials understand the negative economic impact shutting down the border would cause and currently, everything is business as usual. In the event of temporary border closures, there are contingency plans to prevent any disruption to ongoing operations.
The overarching benefit of working with a Mexico shelter company is a partnership with qualified individuals who can help bridge the gap of knowledge and operational experience in Mexico. For any business relationship to thrive, it requires agreed upon expectations and ongoing communication. These questions serve as a guide when researching the right business fit.
Learn more about how shelter services help U.S. businesses expand in Mexico. Contact us for a consultation today.