Nearshore Manufacturing: Why U.S. Companies Should Work with a Shelter Partner
05.19.22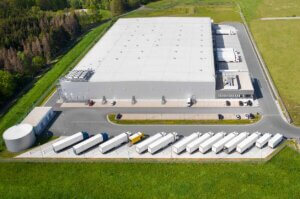 Over the past several decades, Mexico has emerged as one of the leading manufacturing locations, offering multiple benefits for U.S. and other foreign companies to gain a competitive edge. Efficiency and cost-effectiveness are two of the key reasons why a growing number have begun nearshoring to Mexico, though a strong infrastructure, low trading costs, and workforce availability also play a role in why it's historically been a successful strategy.
In terms of efficiency, the close proximity between the U.S. and Mexico means fewer supply chain disruptions and faster deliveries compared to manufacturing in China. Additionally, the infrastructure of Mexico's supply chain has remained solidly intact amidst the global pandemic, which has negatively affected U.S. manufacturers counting on shipments coming from China.
The logistical advantage also leads to valuable cost-savings benefits. With solid ground transportation solutions in place, U.S. manufacturers don't have to contend with the high cost and oftentimes, unreliability of overseas shipments. Furthermore, per Mexico's IMMEX maquiladora program, U.S. and other foreign manufacturers can temporarily import raw goods, materials, and equipment without paying Mexico's 16% import tax as long as the final products are exported within the specified time frame.
All of these benefits are available to any manufacturer considering operating in Mexico. However, there's an even greater advantage when working with a shelter company.
The Value of Mexico Shelter Services
Mexico shelter services include all administrative tasks and responsibilities necessary to set up and maintain a foreign operation, including site selection, HR and recruiting, and taxes and accounting, among other key business areas. Partnering with a Mexico shelter company saves on time, costs, and resources compared to setting up a standalone entity and allows manufacturers to focus their time on production.
Site Selection
Though most U.S. manufacturers want to set up operations in the northern part of Mexico, there are several viable regions in central and southern Mexico as well to consider. For instance, there are emerging opportunities in Merida, where there's been significant industrial growth and direct access to local supply chains but with less saturation than areas closer to the U.S./Mexico border.
Site selection is one of the first action items when working with a Mexico shelter company. IVEMSA will put together a site selection matrix outlining various regions with information about each area, including workforce availability, building costs, and other pertinent city data to help make a decision.
HR and Recruiting
As labor costs continue to rise and the talent pool slowly declines, China is losing some of its biggest manufacturing advantages. Whereas, Mexico maintains a highly-skilled industrial workforce due to the country's continual investment in higher education and technical training programs. Furthermore, wages have remained relatively steady and still are significantly lower than the current labor costs in the U.S.
HR and recruiting are two key elements of the shelter service solution. In addition to knowing how to recruit top talent to accommodate a production timeline, a Mexico shelter company like IVEMSA can help manufacturers navigate competitive compensation packages and complex labor laws which differ from the U.S.
Taxes and Accounting
Mexico shelter services also include a team of tax and accounting experts to handle all tax compliance, payroll, and social security requirements. This ensures manufacturers are kept up-to-date with changing laws and regulations and minimizes the risk and liability of operating in a foreign country.
The comprehensive list of shelter services can be customized to fit each company's specific needs. It helps U.S. and other foreign companies reduce the learning curve when manufacturing in Mexico and can get operations up and running in as little as three to four months versus the six or seven months it takes to set up a new legal entity.
When it comes to operating in a foreign country, it takes expertise and experience to help protect the investment and ensure success. Want to learn how shelter services in Mexico can help with your nearshoring operations? Contact IVEMSA today.