NAFTA Talks: Where Do Things Stand?
04.05.18
To say it's been challenging to keep up with what's happening with NAFTA over the past year is an understatement. Since last August, representatives from the US, Mexico, and Canada have officially met seven times now to renegotiate the agreement. As the latest round of NAFTA talks has just ended, we thought it would be a good time to review where things stand with NAFTA.
A Brief History
The North American Free Trade Agreement, or NAFTA, is the first of its kind and, when it was ratified in 1993, created the world's biggest free trade area between the US, Mexico, and Canada.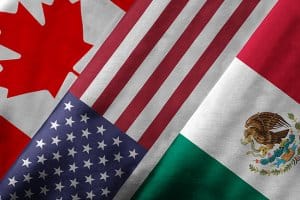 NAFTA has been controversial from the start, with opponents in the US saying it would result in jobs leaving the country and supporters claiming it would make goods less expensive and boost the economy. Since 1994, both have happened, but it's hard to pinpoint to what degree NAFTA is directly responsible. US manufacturers have also set up plants in countries outside of Mexico and Canada (including those with which the US has no free trade agreements), and a large number of manufacturing jobs have been lost due to other factors, such as automation.
However, President Trump made NAFTA a central part of his 2016 presidential campaign, calling it a "total disaster" and "the worst trade deal maybe ever signed anywhere." Trump claimed that American manufacturing jobs have been lost primarily due to NAFTA and promised to enact protectionist, "America first" policies in office.
This is why representatives from the US, Mexico, and Canada first met in August 2017 to renegotiate NAFTA.
Read: 6 Reasons Why Manufacturing in Mexico Remains Attractive for US Businesses
NAFTA Talks and Renegotiations
The A seventh round of these talks ended in early March. At that time, US Trade Representative Robert Lighthizer said he wants to see a deal completed within four to six weeks, but it's unclear whether or not that will happen.
In May 2017, the Trump administration officially notified Mexico and Canada that it intended to renegotiate NAFTA. Two months later, the administration released a list of goals for renegotiating NAFTA. It included objectives like:
Reducing the US trade deficit with Mexico and Canada (either by increasing US exports or decreasing Mexican and Canadian imports)
Getting rid of the dispute-resolution panels
Opening more Mexican and Canadian government contracts to US companies
Updating Mexican and Canadian intellectual property rules to make them more similar to those in the US.
Although the last rounds of NAFTA talks have seen limited progress on certain sections of the agreement, one of the main sticking points involves the automotive industry. Currently, vehicles that have at least 62.5% North American content can travel duty-free between NAFTA countries, and that content can come from any of the three countries. The US wants to change that minimum to 85%, as well as mandate that 50% of the content comes from the US.
The US is also insisting on a "sunset clause," where NAFTA must be renegotiated every five years or it will expire. Mexico and Canada don't agree with this, and it brings the possibility of too much uncertainty for businesses.
What's Next
Trump threw another wrench in the NAFTA talks when he announced the US would impose tariffs on steel aluminum—but later said he would exempt Mexico and Canada from those tariffs if they came to an agreement on NAFTA.
Download: Mexican Manufacturing Cost Fact Sheet
At this point, whether or not the US, Mexico, and Canada will come to an agreement is a coin flip. If Mexico and Canada don't give in to US demands, or the countries can't work out a compromise, Trump could simply pull the US out of NAFTA (Article 2205 allows any country to withdraw with six months' notice). Lighthizer raised the possibility of negotiating separate bilateral deals with Mexico and Canada, but Mexico is not interested in doing so.
Most experts believe that keeping NAFTA is in the best interests of all three countries. NAFTA has helped the three economies become incredibly interdependent, and if one country pulls out, or NAFTA goes away, there would be consequences across many industries. And it's unlikely that manufacturing jobs would move back to the US in great numbers. It's more likely that companies would stay in Mexico or move to countries in Asia, since labor and other manufacturing costs would still be lower in those countries.
Although there are no deadlines or timelines imposed by NAFTA itself, the Trump administration has pushed for a speedy resolution. After the seventh round of NAFTA talks, Lighthizer said "Now our time is running very short" and alluded to upcoming political events that could prolong or drastically change negotiations: Mexico's presidential election is in July, Canada's provincial elections start in June and run through the end of 2018, and the US has midterm elections in November.
Staying Prepared
What we do know is that no matter what happens with NAFTA, trade between the US, Mexico, and Canada will not stop. The three economies are too intertwined. Some sectors actually wouldn't be affected at all (or very minimally): the aerospace and medical/hospital supply industries, for example, have a zero percent duty rate under the WTO (World Trade Organization), whose rules would apply without NAFTA.
Even if tariffs change, the Mexican government has regulations for companies to minimize the duties paid at the border. Our team at IVEMSA is constantly reviewing every change and possible outcome so we can help our clients make the best plans and decisions. We work with each client to perform a duty analysis and overall cost analysis to compare labor rates with tariffs and duty rates, as well as adjust for potential supply chain changes. We are staying on top of both the news about the NAFTA talks and what's happening within Mexico for maquiladoras to ensure our clients can stay competitive.
Interested in moving your manufacturing to Mexico? IVEMSA can help. Request a consultation with us today.