6 Reasons Manufacturing in Mexico Remains Attractive for US Businesses
03.13.18
For the past few decades, Mexico has drawn many US and foreign businesses with promises of low-cost labor and favorable trade agreements. Today, that pull is as strong as ever, with companies like Intel, Gulfstream, Kenworth and more successfully manufacturing in Mexico.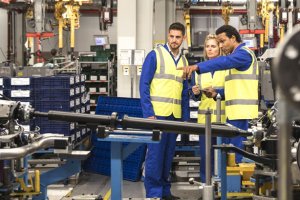 Here are just a few of the reasons why companies continue to move their operations to Mexico:
1. Skilled, Low-cost Labor
We often compare manufacturing costs between Mexico and China. Although China used to come out ahead when considering labor costs, the scales are now tipped in Mexico's favor. Wages in China have risen dramatically while Mexico's have stayed relatively steady—we've found that companies can expect to save 20-30% in labor costs when moving operations to Mexico.
But the growing skills of Mexico's workforce makes the country even more attractive. Not only is the country relatively young (in 2015, the median age was 27.5 years (source), over 110,000 students earn engineering degrees from Mexican universities and technical schools each year. So companies have a large pool of workers, and many of those workers are highly skilled engineers, machinists, and trade craftspeople.
2. Location
Companies that require quick turnaround times, or those who need fast, reliable deliveries, love how simple it is to manufacture in Mexico compared with countries overseas. Mexico's proximity to the US also means that manufacturing operations can be more flexible—should you need to make an adjustment quickly in the middle of a run, it's relatively simple to do so. The US headquarters will be, at most, three hours ahead or behind of the Mexican facility, so communication about needed changes will be simple and decisions can be made quickly.
Mexico's next-door location also offers advantages when it comes to communication and traveling for site visits.
3. Emerging Market
Bloomberg recently named Mexico as one of the most attractive emerging markets in 2018 (source). As an emerging market, the younger generation—the largest in Mexico by far—typically has the most purchasing power. It's important for companies to establish a presence in the country now so they're poised to take advantage as Mexico's economy continues to grow. Being located in the country helps in two ways: one, it builds awareness and trust among consumers, and two, it provides the opportunity to research and identify regional trends.
4. IMMEX/Maquiladora Program Lowers Costs
Mexico's maquiladora program, started in the 1960s, offers tax benefits to foreign companies that bring their manufacturing operations to Mexico. Companies are able to defer taxes when they import raw goods, materials, and equipment, and they pay lower tariffs when exporting finished goods to the US.
5. Shelter Services Minimize Risk
Companies often choose to operate in Mexico under a "shelter," which means they don't have an actual legal presence in Mexico. Instead, a Mexican-owned entity sets up the maquiladora license and manages trade compliance for the foreign company. Should any issues arise, the legal liability lies with the Mexican entity that owns the maquiladora license. Using a shelter comes with cost savings, too—companies won't have to pay income taxes for the first four years of operation.
Additionally, working with a shelter provider means working with a trusted business partner. A shelter provider handles all of the set-up and administrative tasks: finding and leasing a facility, hiring workers, getting permits and licenses, and more. Companies are often amazed at how smooth the process is when they work with a shelter provider.
6. Innovation Happens in Mexico
Mexico's workers aren't just getting more skilled—they're eager to add value and find ways to improve and innovate manufacturing processes. It's not uncommon for companies to develop or test practices in Mexico that get implemented in their other facilities.
As the head of Ford Motor's Mexico unit, Marcos Perez, said in Bloomberg, "Now we are transitioning from Made in Mexico to Designed in Mexico" (source). General Motors is also increasing the number of Mexican employees working on design in addition to fabrication or assembly. We expect to see innovation increase as Mexico's engineering programs continue to grow.
If you want to learn more about the benefits of manufacturing in Mexico, or get information about how much your company can save, request a consultation with us today.