Is Mexico the Answer to the Skilled Labor Shortage?
11.26.19
The development of artificial intelligence, robotics, and other forms of automation have caused concerns for U.S. manufacturers that require skilled labor but have positions that are largely going unfilled.
A 2018 Deloitte report revealed the talent pool in the U.S. for skilled labor has diminished and will continue to decline. Rather than automation replacing roles, as some once feared, it's caused the need for more jobs, which the study shows will leave over two million open roles over the next two decades.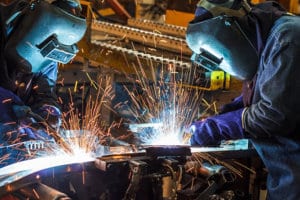 In addition to the U.S., countries, such as China, are facing skilled labor shortages at home as well. This puts Mexico in the spotlight as a viable option to recruit and train new employees within the manufacturing industry. While China's workforce has become stagnant as they face a long-term population decline, Mexico's population has grown at a rate of 1.3% per year and is expected to maintain a steady increase.
Furthermore, the Mexican government has invested in higher education and specialized training for advanced, technical industries. Over 100,000 engineering graduates enter the workforce every year. A robust labor force means Mexico can remain competitive, while still keeping wages cost-friendly.
This provides a solution to a problem other countries are currently struggling with. Not only is there a wider pool of talent to choose from for specialized jobs, such as welding, engineering, and other industrial roles, the cost-effective rate of labor in Mexico has been an advantage many companies have benefited from for years.
Mexico's Wage Advantage over China
Workforce availability and trade skills are two advantages Mexico maintains. Another is its labor rate. When converted to U.S. dollars, data shows average wages for manufacturing in Mexico equal $4.00 per hour compared to an estimated $4.95 per hour in China. While manufacturers can expect a natural increase in the labor market to meet the pace of the demand for labor, the cost still remains relatively low in Mexico when compared with other countries.
This in combination with favorable trade relations and a logistical advantage, means more U.S. manufacturers have already begun seeking solutions in Mexico as an alternative over China. Global manufacturers in the automotive, aerospace, electronics, and medical device industries have historically profited from the advantages Mexico offers as a manufacturing hub.
Staying Competitive in the Manufacturing Industry
With Mexico as a solution for many U.S. companies, it's become a more competitive labor force. Manufacturers with the knowledge and foresight of what's expected can benefit the most. This involves everything from knowing where and how to recruit the right employees for different levels of positions to maintaining a high retention rate through HR best practices.
For those who have not previously explored Mexico as a site option, partnering with a shelter services provider is important to build good relations and ensure a company stays competitive. Through dedicated experience and familiarity with the country's workforce, a shelter partner proves invaluable with regards to recruiting skilled workers, in addition to all of the legal, trade, and administrative efforts that go into starting a new operation.