Manufacturing in Mexico: 5 Benefits to Consider
10.21.21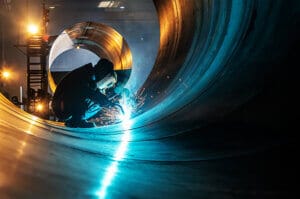 Change isn't anything new in the manufacturing industry. However, the past two years have shaken up the landscape like never before. With a trade war between the U.S. and China followed by a global pandemic, and now the shortage of U.S. workers across all sectors, there's a growing need for stability and consistency, which Mexico can help provide.
With the domino effect on recent events putting pressure on U.S. and other foreign manufacturers, it's causing many to shift gears and move operations south of the border. Though global manufacturers have benefited from manufacturing in Mexico for decades, a new wave of businesses are considering it for the first time.
Thinking about expanding your operations to Mexico? Here are five benefits to consider.
1.   Lower Costs
Manufacturing in Mexico offers substantial cost advantages, especially compared to China, with regards to labor, transportation, and taxes. In terms of tax benefits, the IMMEX program allows exemption from 16 percent VAT for goods, materials, and equipment temporarily imported into Mexico. However, approval is hard to come without the help of a shelter.
A shelter company can save companies up to 30 percent annually versus operating outside of shelter services. Moreover, manufacturers can use the licenses and certifications already in place to operate, including IMMEX certification. Plus, there's no additional investment necessary to set up administrative departments and systems, which saves manufacturers at least $28,500 per month.
2.   USMCA Provisions
In 2020, the updated USMCA was enforced, favoring trade within North America. Two of the key provisions are in reference to original automotive content and intellectual property protection.
Per the USCMA, the Rules of Origins requires 75 percent of auto content be made in North America as a way to preserve and reshore vehicle and parts production to North America. Additionally, new provisions within the agreement strengthens intellectual property protection, an area that's been of high concern between the U.S. and China for decades.
3.   Highly Skilled Industrial Talent
Mexico has a highly skilled, sustainable industrial workforce to help fulfill the jobs needed for manufacturers entering the space. With a concentration on advanced education and hands-on training programs, Mexico graduates over 110,000 engineers every year, contributing to a younger demographic of people entering the workforce.
Alternatively, the percentage of people eligible for retirement has doubled over the last 20 years in the U.S. and the trend is projected to continue. There are fewer workers available and willing to take industrial jobs. And, according to the U.S. Bureau of Labor Statistics, retaining an older workforce equals higher labor costs for those who do work beyond retirement age.
4.   Increased Productivity
In addition to the younger demographic and lower labor costs available, a work week in Mexico consists of 48 hours and often extends to six days a week. This extra time allows for greater productivity to help manufacturers meet tight deadlines and get products to market faster. As competition increases and advanced technology is introduced, longer work weeks help manufacturers maintain a competitive advantage.
5.   Time Zones
Since Mexico shares three time zones with the U.S., it makes operations much easier than U.S. manufacturers operating in China. Depending on where a company's headquarters is located in the U.S., a shipment can leave Mexico and arrive at its final destination on the same day. The time zone convenience also makes it easier for communication and travel which helps to improve quality assurance and oversight.
Manufacturing in Mexico has been a key strategy for U.S. and other foreign manufacturers over the years thanks to the cost advantages, infrastructure, and workforce reliability it provides. And with the help of a shelter company taking on all administrative responsibility, it's yet another incentive to expand or diversify operations.
Learn more about how your company can benefit from partnering with a shelter company like IVEMSA. Call us today.
Source:
https://www.bls.gov/opub/mlr/2020/beyond-bls/what-to-do-about-our-aging-workforce-the-employers-response.htm