Why "Made in Mexico" Is the Future of Manufacturing
09.08.21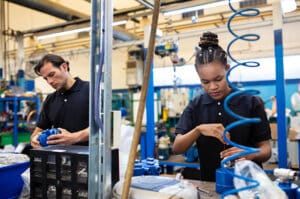 Manufacturers making the move from China to Mexico continue to be on the rise due to supply chain interruptions between the U.S. and China. With China being at the center of the pandemic in 2020, freight costs increased and shipments were delayed or canceled due to the global shutdown and a weakened supply chain. Although, as of 2019, Mexico had already surpassed China as the top trading partner to the U.S. with the trend continuing into 2021 and beyond.
For many, this "made in Mexico" mentality has begun to replace the benefits of Chinese manufacturing that were once in much higher demand. Foreign direct investment (FDI) of the United States in Mexico has increased substantially over the past two decades. The FDI began at $37.2 billion in 1999 and has grown incrementally to approximately $114.9 billion as of 2018. Though the rise of manufacturers moving their operations from China to Mexico has increased due to COVID-19, it's clear to see this concept and strategy has been applied across all sectors for years.
The U.S. doesn't represent the only global manufacturers to reevaluate their supply chains. For example, Taiwan-based electronics manufacturer Foxconn set its sights on manufacturing in Mexico in a shift from Asia by mid-2020. Foxconn is a major supplier for Apple that likely will expand to Mexico for the production of its electric vehicles. This would be an expansion of the five factories already operating there, which largely produce televisions and servers.
Aside from the challenges faced in China, much of the shift is linked to the quality of cost-effective production that can meet the rising demand. This is largely due to the infrastructure in place through Mexico's IMMEX maquiladora program.
The Importance of Mexico's IMMEX Program in Foreign Manufacturing
The support of the IMMEX maquiladora program is one of the biggest benefits of switching operations from China to Mexico. The program offers favorable tax benefits to companies manufacturing in Mexico by exempting them from the 16 percent value added tax. This tax advantage is applied to temporarily imported raw goods, materials, and equipment used for the manufacturing process.
Furthermore, companies that partner with a shelter services company receive this benefit immediately since the licensing and certifications are already in place. Whereas, setting up a standalone operation requires a waiting period of several months to apply and be accepted into the IMMEX program. Other benefits of the shelter include minimized risk and liability, reduced costs, and a quick startup time.
As companies consider their options, manufacturing in Mexico serves as a big incentive for those who need a cost-effective solution and a steady supply chain close to their target market. For some, this means replacing Chinese manufacturing. For others, it's an opportunity to diversify their efforts. Either way, expanding operations to Mexico has become a top strategy for U.S. and other foreign manufacturers.
To learn more about how manufacturing in Mexico can benefit your company, contact IVEMSA today.
Sources:
https://fas.org/sgp/crs/row/RL32934.pdf
https://www.reuters.com/article/us-mexico-china-factories-exclusive/exclusive-foxconn-other-asian-firms-consider-mexico-factories-as-china-risks-grow-idUSKBN25K17X
https://www.reuters.com/article/us-foxconn-electric/foxconn-eyes-evs-for-troubled-wisconsin-plant-may-go-with-mexico-idUSKBN2B8191